English below
Soutenez l'Association Petits Princes en achetant 5 Euros, 20 kilomètres en VTT.
Support the Association Petits Princes by buying 5 Euros, 20 kilometers in Mountain Bike.
Click on the following link:
Cliquez ici pour soutenir l'Association Petits Princes
A partir du 21 septembre, venez me rejoindre sur la 3ème section en cliquant sur le lien suivant ou en haut de la page d'accueil du site:
3ème section: Volcanoes & Temples (Yogyakarta-Ubud) 21 au 30 Septembre 2014
19 et 20-09-2014
Jours de récupération à Yogyakarta
Fin de la 2ème section avec le luxe d'avoir 2 jours de repos bien mérités.
End of the 2nd section with the luxury to have 2 well deserved rest days.
En synthèse et cumul depuis Medan:
Durée: 102h35′
Distance parcourue: 1 967 km
Dénivelé +:  28 773 m
Vitesse moyenne : 19,2 km/h
L'hôtel est une oasis cachée dans un quartier calme de Yogyakarta.
The hotel is an oasis hidden in a quiet district of Yogyakarta.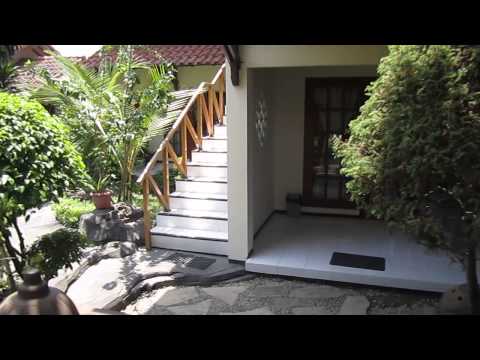 Rite habituel: lavage vélo, vérification complète du vélo (serrage vis, usure plaquettes de frein, pneumatiques, dérailleurs, etc). J'ai seulement remplacé les plaquettes AV.
Usual rite: wash bike, ful check of the bike (tightening screw, wear brake pads, tyres, derailing stops, etc.). I only replaced the front brake pads.
Douche, dépose au pressing des affaires de sport et un massage qui était moins tonique que celui de Cipanas.
Shower, go to the laundry for sport clothes and a massage which was less tonic than in Cipanas.
Le lendemain, ballade dans Yogyakarta en pousse-pousse avec Joachim, mon ami allemand. Je plaignais un peu le chauffeur car nos poids cumulés .faisaient 156 kg.
The next day, the walk in Yogyakarta in rickshaw with Joachim, my German friend. I complained the driver because our accumulated weights of 156 kg.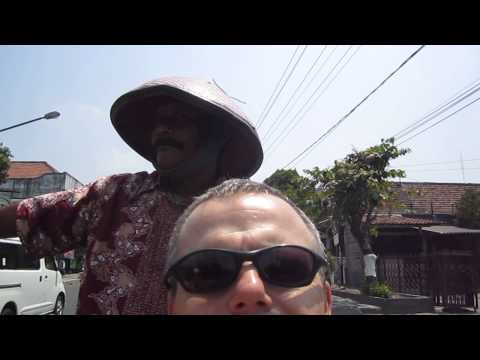 Ce vélo insolite dans le plus grand magasin de vélo de Yogyakarta s'appelle: FAT MAN.
Les pneus sont aussi larges que ceux des motos.
This unusual bike in the biggest store of bikes of Yogyakarta is called: FAT MAN.
Tires are also large as those of the motorcycles.
 Samedi repos complet  où j'ai pu complété mon blog.
On Saturday complete rest day where I was able to write down my blog.
Je vais très bien. Je ne ressens quasiment plus de douleur au niveau des côtes fracturées. Mon coude a pratiquement fini de cicatriser.
I'm doing great. I feel almost no more pain at the level of the broken ribs. My elbow practically stopped healing.
Je peux dire que je suis à 98% de ma capacité physique. En un peu plus de 3 semaines, j'ai récupéré rapidement de mes blessures grâce au sport.
I can say that I am 98 % of my physical capacity. In more than 3 weeks, I quickly recovered of my wounds thanks to the sport.
Agence Frebot
Eric FREBOT
06, Bis Rue Parmentier
94 450 Limeil Brévannes
http://www.renault.fr/concession/garage_frebot_dumas
18-09-2014
27ème étape : Wonosobo-Yogyakarta
Informations techniques et sportives:
http://connect.garmin.com/modern/activity/595257555
Durée: 05h06′
Distance parcourue: 111,5 km
Dénivelé +:  1596 m
Vitesse moyenne : 22 km/h
Parcours assez roulant, avec une bonne côte au milieu, mais rien d'important à voir car une bonne partie s'est déroulée sur une route avec une circulation plus dense que vous découvrirez dans les vidéos ci-dessous:
Riding this route was quit easy, with a nice climb in the middle, but nothing important to see because the most of the route was on highway and so busy. You can discover this traffic in the vidéos below: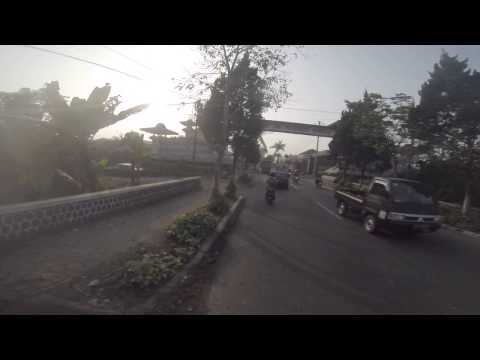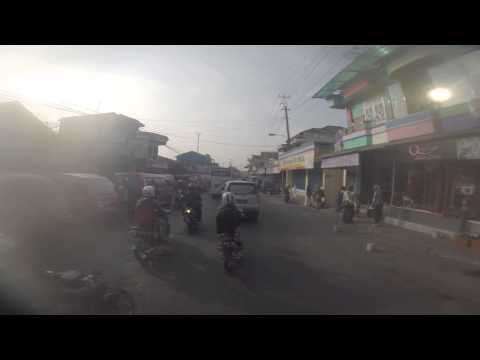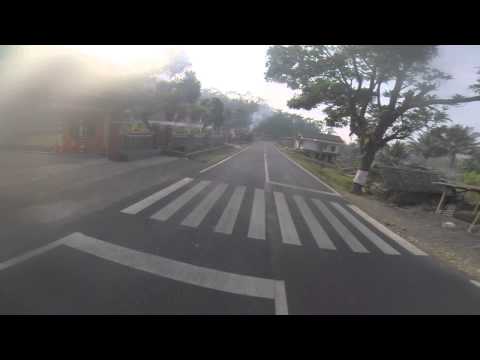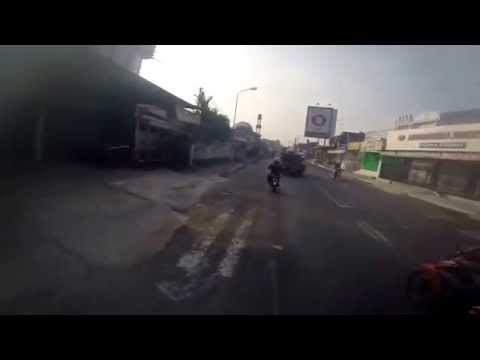 Agence SRAC
Pascal DUMOULIN
ZAC du Trou Grillon
91 280 Saint Pierre du Perray
17-09-2014
26ème étape : Baturraden-Wonosobo
Informations techniques et sportives:
http://connect.garmin.com/activity/593040076
Durée: 07h01′
Distance parcourue: 138,5 km
Dénivelé +:  1835 m
Vitesse moyenne : 16,7 km/h
Je n'ai pas fermé l'œil de la nuit car j'ai eu une bonne gastro. Par conséquent, le matin, je n'étais pas très bien car le diner a été gâché et je n'ai rien pris au petit déjeuner.
I did not sleep all the night because I had a bad gastroenteritis. Consequently, in the morning, I was not very well because the dinner was wasted and I took nothing for the breakfast.
Dès que j'ai pu, j'ai acheté une bouteille de Coca Cola d'une petite épicerie indonésienne. Vous en trouvez partout en Indonésie de ces petites boutiques qui bordent  les routes.
As soon as I was able, I bought a  bottle of Coca Cola from a small Indonesian grocer's shop. You can find these grocer's shops everywhere in Indonesia along the roads.
Personnellement, le Coca est très efficace contre les gastros. L e 2ème avantage du Coca est l'apport de sucre qui m'a permis d'alimenter les muscles. L'inconvénient des sucres rapides est leur effet de courte durée donc j'ai acheté une bouteille de Coca tous les 25 km. J'avais aussi ma boisson énergétique pour les sucres lents. Ils étaient complémentaires.
Personally, Coca Cola is very efficient against gastroenteritis. The 2nd advantage of the Coke is the contribution of sugar which  feed muscles. The inconvenience of quick-burning sugars is their short-term effect thus I bought a Coke bottle every 25 km. I also had my energy drink for slow-burning sugars. They were complementary.
Heureusement que le parcours était plus facile que ceux des derniers jours. Il est vrai que je n'avais pas toute ma puissance,  j'ai dû appliquer une éco-conduite pour arriver au bout sachant que la fin se terminait par une bonne montée.
Fortunately, the route was easier than those of the last days. It is true that I had not all my stamina, I had to apply an eco-riding to arrive until the end that ended by a good climb.
Passage d'une passerelle originale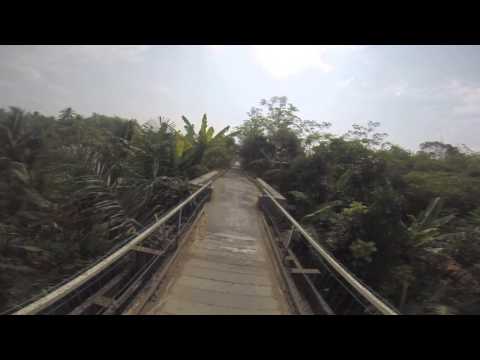 Route le long d'un canal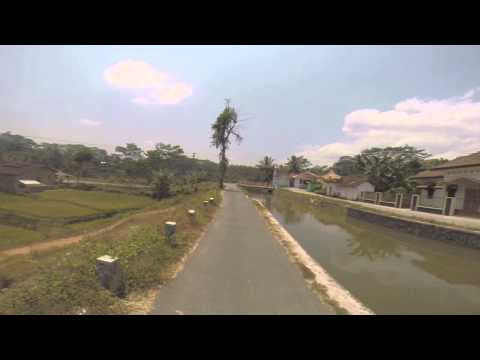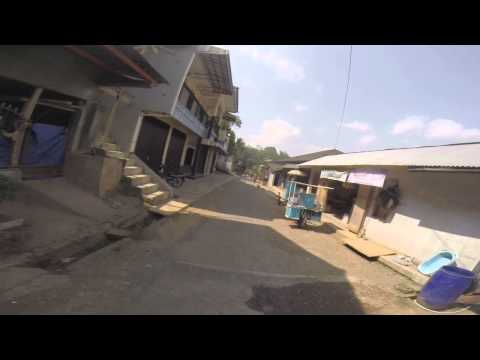 Ce soir, je me suis forcé à manger un peu.
This evening, I forced me to eat a little bit.
Une bonne nuit de sommeil  pour terminer le dernier parcours de la semaine pour Yogyakarta.
A good night of sleep to end the last route of the week for Yogyakarta.
Nous sommes au total 17 participants et il n'en reste plus que 8. Pour des raisons médicales (accidents), de fatigue, de lassitude, de la difficulté des étapes, la plupart d'entre eux nous attende à Yogyakarta où 3 autres participants vont venir nous rejoindre. J'en connais un, Gérald Coniel, qui est français.
We are in total 17 participants and there is no more than 8 there. For medical reasons (accidents), of tiredness, the difficulty of the stages, most of them wait for us at Yogyakarta where 3 other participants are going to come to join us. I know one, Gérald Coniel, who is French.
Sur les 8 restants, seulement 6 (dont je fais partie) finissent les étapes.
On 8 remainders, only 6 (of whom I am a member) finish the stages.
Henry GOLD, le PDG de Tour d'Afrique LTD me demandait mon avis afin de comparer la difficulté entre la Ruta Maya en Amérique Centrale et la Trans-Oceania côté Indonésie.
Henry GOLD asked me for my opinion to compare the difficulty between Ruta Maya (Central America) and the Trans-Oceania in Indonesia.
La différence est explicable, en Amérique Centrale les montées et les descentes sont longues mais l'inclinaison des pentes reste acceptable entre 10% et 14% . Dans de rares cas, nous avons eu plus de 20%.
The difference is explicable, in Central America the climbs and the descents are long but the slope is acceptable between 10 % and 14 %. In rare cases, we were more than 20 %.
En revanche, à Java particulièrement, les montées et descentes sont courtes mais l'inclinaison des pentes est très prononcée entre 20% et 30% comme sur le sentier que nous avons dû tous franchir à pied.
On the other hand, in Java island particularly, the climbs and the descents are short but the slope  is very pronounced between 20 % and 30 % as on the path that we owed all to cross on foot.
Agence CMV Automobiles
Mathieu BAUDOUIN
114, Boulevard Giraud
94 100 Saint Maur Des Fossés
http://www.renault.fr/concession/garage_de_l_etoile
16-09-2014
25ème étape : Kota Banjar-Baturraden
Informations techniques et sportives:
http://connect.garmin.com/modern/activity/591842242
Durée: 07h37′
Distance parcourue: 138,5 km
Dénivelé +:  2380 m
Vitesse moyenne : 18,2 km/h
Cette étape était éprouvante car de nombreuses montées toujours aussi abruptes (plus de 20%) ont croisé ma route.
This stage was exhausting because a lot of climbs always so steep (more than 20 %) crossed my road.
Les vidéos ci-dessous ne montrent pas la réalité des pentes à gravir, idem pour les descentes.
Videos below do not show the reality of slopes to be climbed, idem for the descents.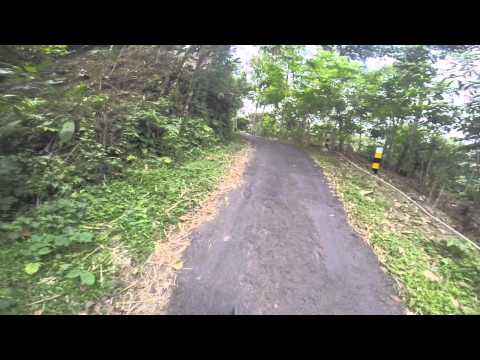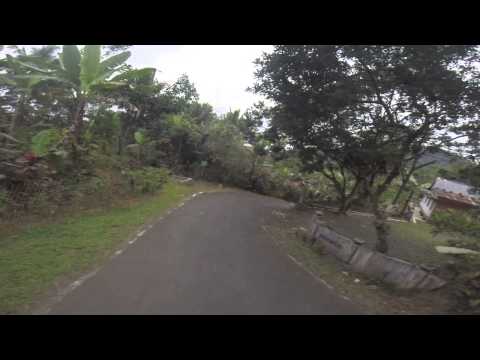 http://youtu.be/MWX06K5FmRM
L'hôtel avec vue sur la vallée était très confortable.
The hotel with a view of the valley was very comfortable.
Agence Decreton
Philippe DECRETON
09, Avenue du général Leclerc
91 610 Ballancourt
http://www.renault.fr/concession/garage_decreton_philippe
15-09-2014
24ème étape : Cipanas-Kota Banjar
Informations techniques et sportives:
http://connect.garmin.com/modern/activity/591025620
Durée: 06h13′
Distance parcourue: 121 km
Dénivelé +:  1 700 m
Vitesse moyenne : 19,4 km/h
Aujourdhui, le parcours était assez facile mais les 3 cols à franchir étaient  coriaces.
Today, the route was rather easy but 3 passes to cross were tough.
Les 10 premiers kilomètre sont été réalisés dans les bouchons matinaux de Cipanas. Puis les 50 km  étaient très jolis car nous suivions la rivière entourée par de belles rizières.
The 10 first kilometers are been realized in the morning traffic jam of Cipanas. Then 50 km were very attractive because we followed the river surrounded by beautiful rice fields.
Ensuite, nous avons traversé la jungle avec des parties abruptes et des pistes très rocailleuses et dangereuses qui ont massé mes côtes. Je vais mieux de jour en jour et je suis à 90% de ma capacité physique. Je pense que dans une semaine ce ne sera plus qu'un mauvais souvenir.
Then, we rode thru the jungle with steep climbs and very rocky and dangerous tracks which massaged my ribs. I feel better from day to day and I have 90 % of my physical capacity. I think that in a week it will not be more than a bad memory.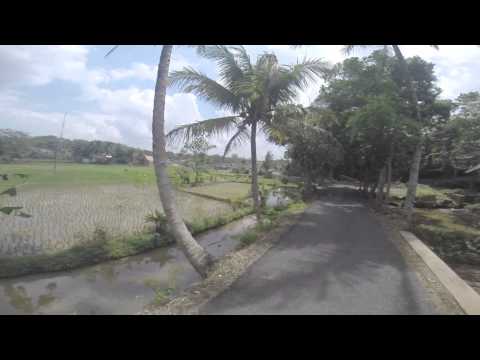 Vers le 75ème kilometre, je n'avais plus d'eau dans les gourdes. J'ai dû m'arrêter acheter de l'eau dans une petite boutique d'un village. Ca m'arrive de temps en temps et ça me permet de discuter avec les indonésiens. A chaque fois, ils sont toujours surpris quand je leur dis que je suis parti de Medan (Sumatra) et que je vais à Sydney. L'expression de leurs visages indique qu'ils doivent me prendre pour un fou. Il se peut qu'ils aient raison!
Around the 75th kilometer, I did not have water anymore in my cans. I had to stop buying some water in a small shop of a village. It happens sometimes  and that allows me to talk to Indonesian people. Every time, they are always surprised when I tell them that I come from Medan ( Sumatra) and that I go to Sydney (Australia). In their face expression, I think that they think I am crazy. May be they are right!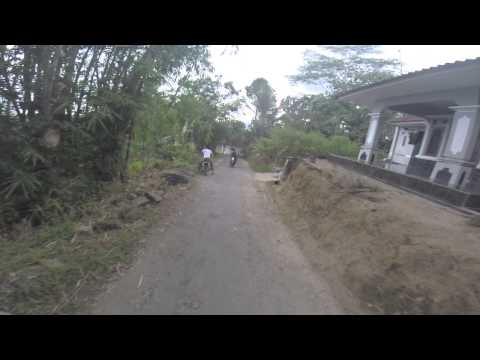 A chaque fois que je m'arrête dans un village, tous les villageois viennent me voir comme si j'étais une star et ensuite une série de photos s'impose. C'est assez amusant. Certains n'ont jamais vu de blanc de leur vie en chair et en os, aussi surprenant soit il. On est l'attraction du moment !
Every time I stop in a village, all the villagers come to see me as if I was a star and then a series of photos is imperative. It is funny. Some people have never seen a white person in live in their life. is he. We are the attraction of moment!
J'ai été prudent sur les 50 derniers kilomètres car les plaquettes de frein  arrière étaient complètement usées, j'ai oublié de les remplacer à Cipanas le jour de repos.
I was careful on the last 50 kilometers because the rear brake pads were completely worn out, I forgot to replace them at Cipanas the day of rest.
Je les ai remplacées ce soir. Elles ont fait à peine 2 500 km car dans les fortes descentes, il faut que l'énergie cinétique dissipe les 105 kg à freiner.  Mon vélo est assez lourd avec tous les équipements en place : plus de 22 kg.
I replaced them this evening. They lasted 2 500 km because in the brutal descents, the kinetic energy has to dissipate 105 kg to be slowed down. My bike is quit heavy with all the equipments in place: more than 22 kg.
L'hôtel où nous sommes est correct mais sans connexion internet.
The hotel where we stay is correct but without internet connection.
Agence Belleville Automobiles
Charles et Nathalie DUC
48, Chemin de la Plaine
91 190 Gif Sur Yvette
http://www.renault.fr/concession/garage_duc_charles
14-09-2014
Jour de récupération à Cipanas
Journée de repos à Cipanas (réputée pour ses eaux thermales) bien mérité car les 6 jours de vélo intenses ont puisé dans nos réserves.
A day of well deserved rest because 6 intense days of riding drew from our reserves.
Arrivé à l'hôtel de bon standing, j'ai lavé mon vélo, rangé mes affaires, déposé mon linge sale au pressing. En Indonésie, le pressing est facturé au kg. 1 kg me revient à 1 €. J'ai souvent 3 kg de linge. Je le fais à chaque jour de repos.
Arrived at the good standing hotel, I washed my cycle, arranged my gears, put down my dirty clothes for laundry. In Indonesia, the laundry is charged to kg. 1 kg costs me in 1 €. I am often 3 kg of linen. I make it every rest day.
Ensuite une bonne douche suivi d'un massage traditionnel indonésien de bonne qualité pour 9 € de l'heure.
Then a good shower followed by a good quality Indonesian traditional massage for 9 € one hour.
J'ai demandé un massage tonique. Je peux vous assurer que c'était douloureux car le masseur sentait bien les muscles fatigués et insistait bien sur les zones douloureuses.
I asked for a tonic massage. I can assure you that it ached because the kine felt very well the tired muscles and insisted well on the painful zones.
Un bon massage permet de récupérer plus facilement.
A good massage allows to recover more easily.
L'hôtel est très bien situé avec vue sur les volcans.
The hotel is very well located with a view on the volcanoes.
Volcan actif Tangkuban Prahu
Volcan Gunung Papandayan (2 662 m)
Dimanche, je me suis bien reposé et cela m'a permis de compléter mon blog.
On Sunday, I rested well and I could complete my blog.
Un manège ambulant
A mobile merry-go-round
Agence 43
Jean-Luc BONGAERTS
Route Nationale 7
77  310 Boissise Le Roi
13-09-2014
23ème étape : Ciwidey-Cipanas
Informations techniques et sportives:
http://connect.garmin.com/modern/activity/589166804
Durée: 07h36′
Distance parcourue: 112 km
Dénivelé +:  2 210 m
Vitesse moyenne : 13 km/h
La journée a été semé d'embûches.
The day was full of pitfalls.
La piste était de très mauvaises qualité et fatigante sur les 20 premiers kilomètre dont la pente était supportable.
The track was of very bad quality and tiring on 20 first  kilometers with a slopethat  was bearable.
Piste composée essentiellement de cailloux et graviers.
Track consisted essentially of pebbles and gravels.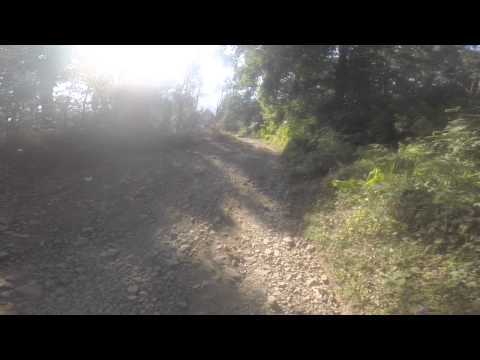 Jolies champs de thé à perte de vue.
Attractive and endless fields of tea .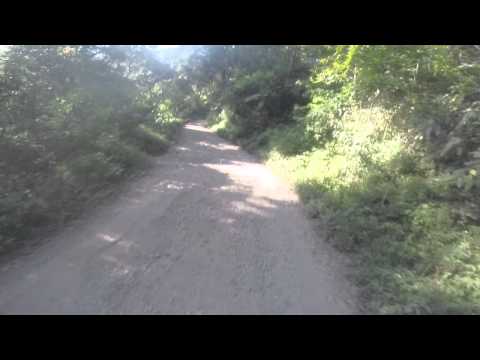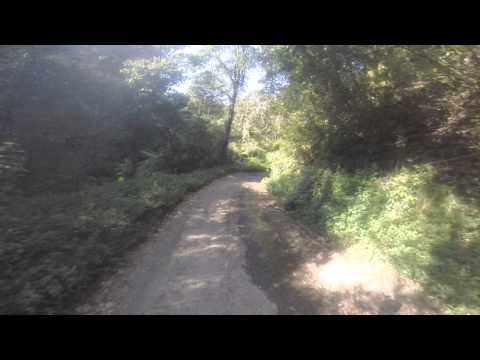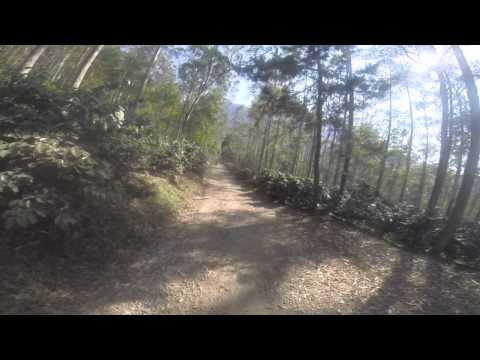 Paysans taillant les arbustes à thé.
Farmers cutting tea shrubs.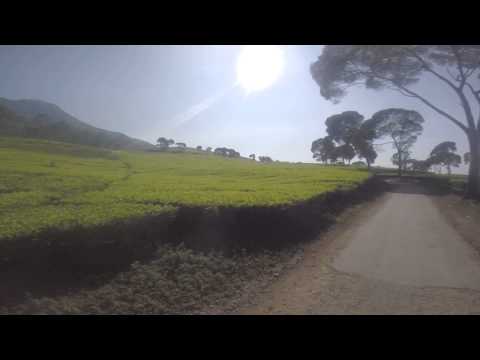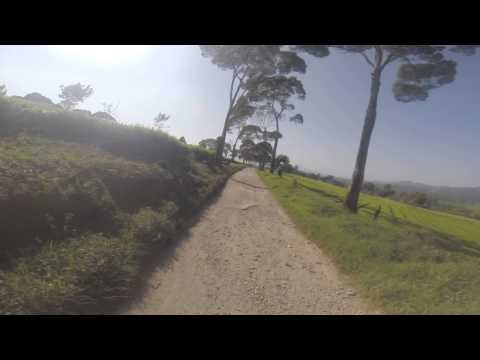 Après la pause déjeuner qui est plutôt un brunch, nous avons appris que le parcours avait changé. Ce parcours était particulièrement compliqué concernant la navigation.
After the lunch break which is rather a brunch, we learnt that the route had changed. This route was particularly complicated concerning the navigation.
Avec 2 participants, nous avons été induits en erreur. Après avoir fait 10 km de descente, nous avons compris qu'il y avait une erreur dans leurs indications. Il fallait au moins 2 heures pour tout remonter. J'ai décidé de prendre un minibus public pour revenir à l'endroit de la pause déjeuner car il était déjà tard et je ne voulais pas rouler de nuit sans éclairage. Je ne pouvais pas mettre mon vélo à l'intérieur par conséquent  je le tenais en équilibre et à bout de bras sur le montant de la porte coulissante. Les 2 autres participants ont emboîté le pas en prenant les minibus publics suivants.
With 2 participants, we were mistaken. After riding 10 km of descent, we understood that there was a mistake in their indications. 2 hours were needed at least to go back up all the climb. I decided to take a public minibus to return towards to the place of the lunch break because it was already late and I did not want to ride during the night without light. I could not put my bike inside consequently I balanced it and at arm's length on the amount of the sliding door. 2 other participants followed me by taking the following public minibuses.
10 minutes plus tard, un minibus de l'organisation est venue à notre rencontre pour nous récupérer et nous remettre dans la bonne direction.
10 minutes later, a minibus of the organization came and meet us to get back us and pick us  up to put us in the right way.
Vive l'aventure!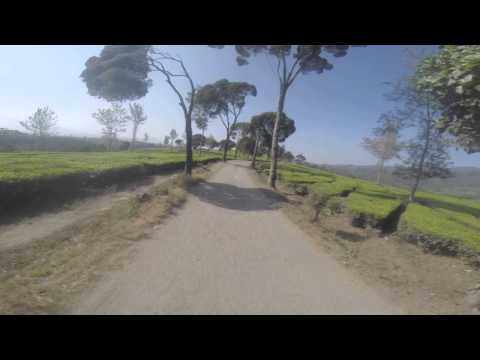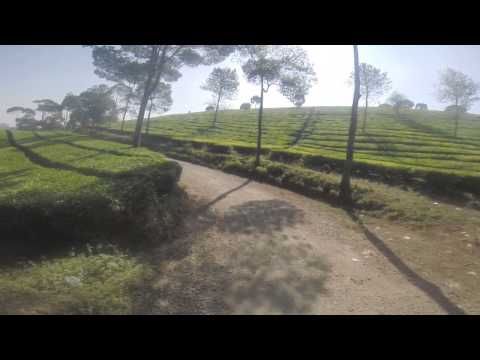 Dans la vidéo ci-dessous, vous verrez qu'un petit utilitaire n'arrivait pas à avancer tellement la pente était raide.
In the video below, you will see a small utility that did not manage to drive forward so much the slope was stiff.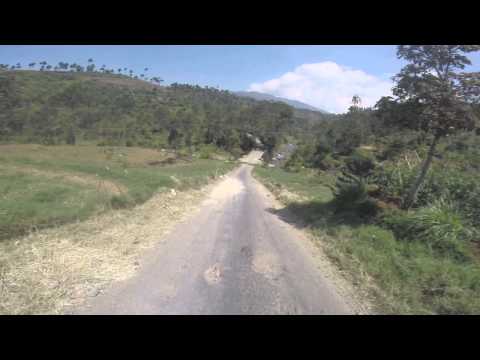 Une partie du parcours était composée d'un tronçon dont la piste avec ses graviers et l'inclinaison de la pente était impossible à franchir à vélo car trop glissant. Seuls des professionnels équipés de VTT peuvent gravir ce genre de sentier.
A part of the route consisted of a section that the track with gravels and the slope of the up hill was impossible to climb with a bicycle because too much slipery. Only professional riders riding mountain bike can climb this kind of path.
C'est la première fois que je mettais pied à terre. Même à pied, ce n'était pas facile de monter. J'ai dû marcher pendant au moins 2 kilomètres en passant de 1500 m à 1850 m d'altitude.
It is the first time it was impossible for me to ride. Even on foot, it was not easy to climb. I had to walk during at least 2 kilometers from 1500 m to 1850 m altitude.
Je vous rassure aucun participant n'a réussi à gravir ce tronçon.
I reassure you that no participant was able to climb this section.
REDELE MELUN
Concession de Melun
23, Route de Montereau
77 000 Melun
http://www.renault.fr/concession/melun
REDELE BRIE
17, rue du Général Leclerc
77 170 Brie Comte Robert
http://www.renault.fr/concession/brie_comte_robert
12-09-2014
22ème étape : Cidaun-Ciwidey
Informations techniques et sportives:
http://connect.garmin.com/modern/activity/588489714
Durée: 05h30′
Distance parcourue: 72 km
Dénivelé +:  2 661 m
Vitesse moyenne : 13 km/h
La journée a été très rude!
Quand vous regardez le graphique ci-dessus, vous comprenez rapidement que le parcours était très compliqué pour plusieurs raisons.
La première est un parcours pratiquement à 80% en montée.
The day was very rough!
When you look at the graph above, you quickly understand that the route was very complicated for several reasons.
The first one is a route almost in 80 % in up hill.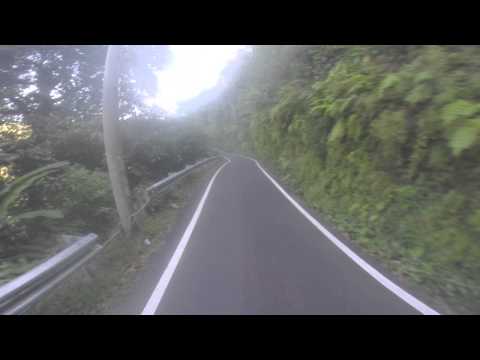 La deuxième raison est le dénivelé positif: 2661 m. Ma vitesse moyenne n'a pas dépassé les 13 km/h!
The second reason is the positive difference height: 2661 m. My average speed did not exceed 13 kph!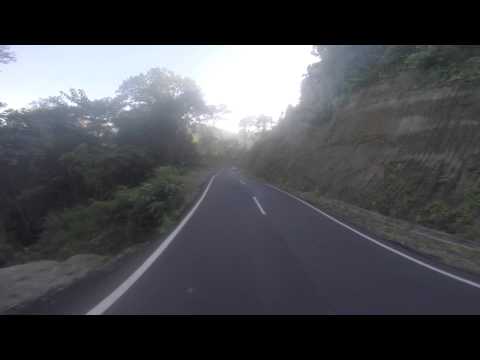 La troisième raison est l'altitude: en 45 km, nous sommes passés du niveau de la mer à 1700 m.
The third reason is the altitude: in 45 km, we rode from the sea level to 1700 m high.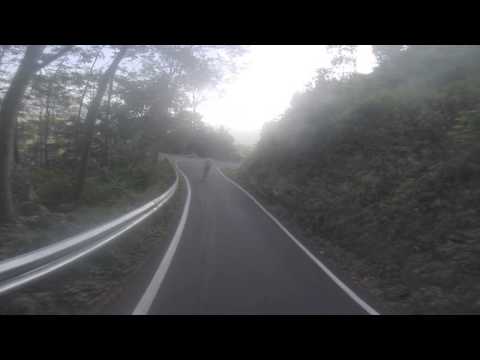 La quatrième raison est l'incroyable inclinaison des côtes successives: plus de 22%.
The fourth reason is the incredible slope of the successive climbs: more than 22 %.
Les photos et vidéos ne témoignent pas de la réalité. Il faut être sur place pour se rendre compte de la forte inclinaison.
Photos and videos do not testify of the reality. It is necessary to be on site to realize the steep slope.
Comme la dernière fois, j'ai dû me coucher vers l'avant du vélo pour éviter de me retourner et de perdre le contrôle de la roue avant.
As the last time, I had to lie down forward to the bike to avoid turning around and losing control of the front wheel.
J'ai eu quelques frayeurs car la roue arrière perdait adhérence malgré les crampons des pneumatiques: risque de chute.
I had some frights because the back wheel lost adhesion in spite of the scramps of the tyres: risk of fall.
Malgré mes côtes fracturées, j'ai dû monter en danseuse certains tronçons. Il aurait été intéressant de mesurer la puissance à la pédale. A mon test d'effort de juin dernier, j'avais atteint quasiment 500 Watts.
In spite of my broken ribs, I had to stand up on my bike to ride certain sections. it would have been interesting to measure the power in the pedal. In my test of heart effort of last June, I reached almost 500 watts.
En Amérique Centrale, j'avais eu ce type d'inclinaison mais avec des sections plus courtes. Très peu d'entre nous ont réussi à monter ces côtes monstrueuses.
In Central America, I had this kind of slope but with shorter sections. Little of us rode these incredible climbs.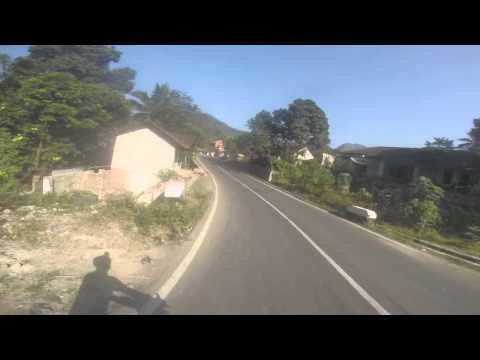 Cinquième raison: la chaleur humide plus de 80% avec un maximum de 38°c.
The fifth reason: the wet heat more than 80 % with a maximum of 38°c.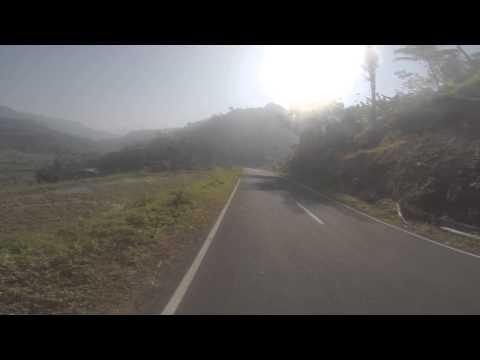 Sixième raison: j'avais déjà 4 jours de vélo soit 430 km de vélo dans les jambes.
The sixth reason: I had already 4 days of cycle that is 430 km of ride in legs.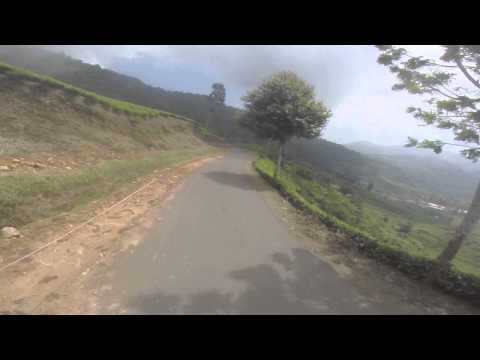 Pour toutes ces raisons, ça valait la peine car notre effort a été récompensé par des paysages somptueux encaissés sur les flancs du cratère du volcan, et arborés de champs de thé et de de rizières.
For all these reasons, that was worth because our effort was rewarded by luxurious landscapes taken on the sides of the crater of the volcano, and raised by fields of tea and rice.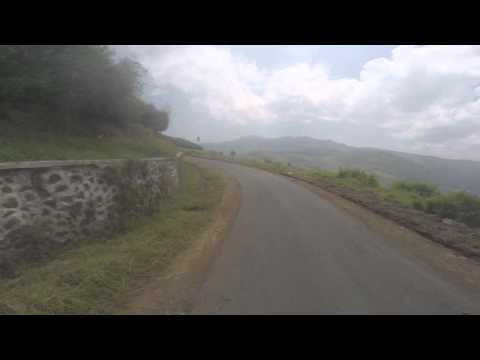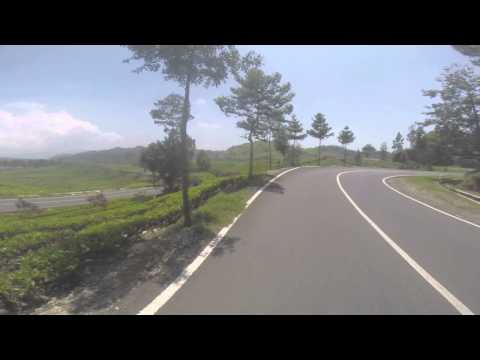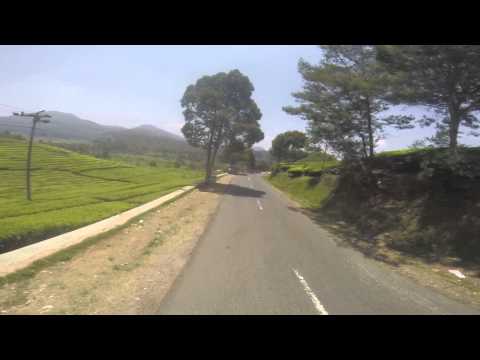 L'hôtel où nous avons passé la nuit était très bien et le restaurant typique indonésien où nous avons dîné, pour la première fois, sur la même table.
The hotel where we spent the night was very nice and the Indonesian typical restaurant where we have dinner, for the first time, on the same table.
Le dîner était exquis.
The dinner was delicious.
J'ai très bien dormi car l'air était frais (altitude) et enfin plus de moustiques qui viennent vous piquer pendant votre sommeil.
I slept very well because the air was cool (altitude) and finally no mosquitoes which come to bite you during your sleep.
Garage de 3
Agence Renault
Saïd CADHI
120, Rue De Troyes
77 390 Guignes
http://www.renault.fr/concession/garage_de_3
11-09-2014
21ème étape : Ujung Genteng-Cidaun
Informations techniques et sportives:
http://connect.garmin.com/modern/activity/588490051
Durée: 06h53′
Distance parcourue: 142 km
Dénivelé +:  1522 m
Vitesse moyenne : 20,7 km/h
Si la journée d'hier était facile, celle d'aujourd'hui a été un peu plus corsée. Le graphique ci-dessus vous donne quelques indices.
If yesterday was an easy ride,  today that was a little more intensified. The graph above gives you some indications.
 Le matin, départ de la plage.
The morning, departure from the beach.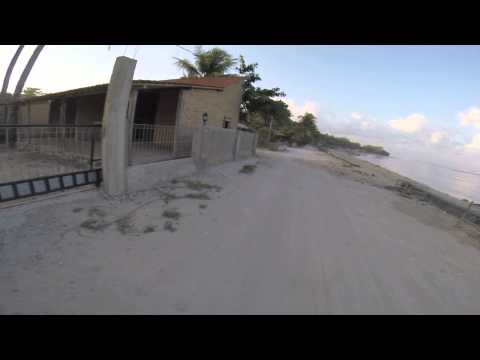 S'enchaîne ensuite une montée de 25 km sans difficultés majeures.
After a climb of 25 km without major difficulties.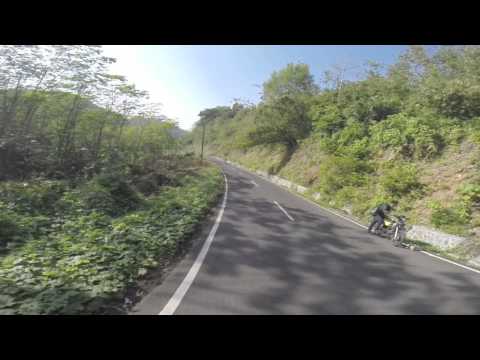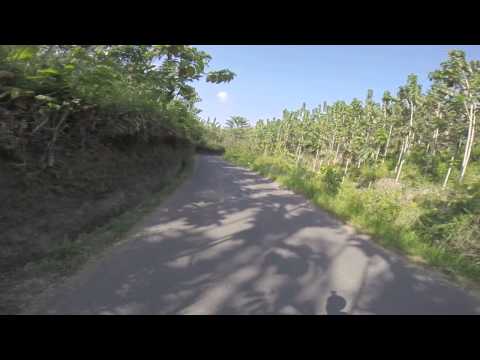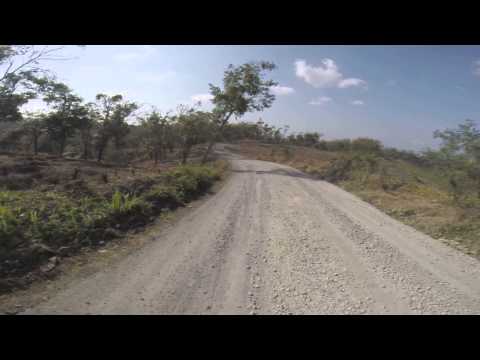 Un peu de mauvaise route et plusieurs côtes plus ou moins difficiles à franchir.
A rough road and several up hills more or less difficult to ride.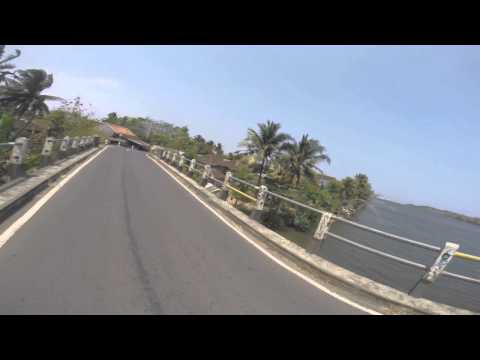 Champs de thé
Tea fields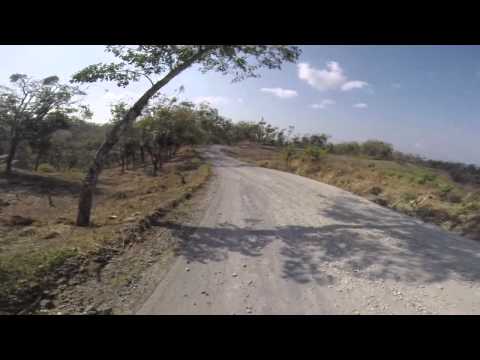 L'hôtel n'était pas vraiment classe mais l'équipe de Tour d'Afrique fait de son mieux pour trouver le meilleur hébergement possible et les propriétaires étaient très accueillants.
The hotel was not really nice but team of Tour d'Afrique LTD done his best to find the best possible residence and the owners were very friendly.
Difficile de trouver des hôtels corrects en pleine campagne indonésienne.
Difficult to find correct hotels in the Indonesian countryside.
J'ai pu dîner dans leur maison et par respect je n'ai pas pris de photos de l'intérieur.
I was able to have dinner in their house and by respect I did not take photos of the inside home.
La salle de bain était très sale et très rudimentaires.
The bathroom was very dirty and very rudimentary.
 Le seau vert a pour fonction de réserve d'eau et la casserole bleue sert de pomme de douche et de chasse d'eau. Pas vraiment hygiénique.
The green bucket is used for tank of water and the blue pan serves as shower and as flush. Not really hygienic.
GRAND GARAGE FERAY
Concession Renault de Corbeil
46, Avenue du 8 Mai 1945
91 100 Corbeil Essonnes
SOVEA
Concession Renault de Chennevières
96, Route De La libération
94 430 Chennevières Sur Marne
GIRARDIN
Concession Renault de Champigny
118, Avenue Roger Salengro
94 500 Champigny Sur Marne
10-09-2014
20ème étape : Cimaja-Ujung Genteng
Informations techniques et sportives:
http://connect.garmin.com/modern/activity/587145261
Durée: 04h44′
Distance parcourue: 97 km
Dénivelé +:  1890 m
Vitesse moyenne : 20,5 km/h
J'avoue que c'était une journée pas trop difficile. Seulement une montée de 20 km pour passer du niveau de la mer à 800m mais avec une pente douce.
I admit that it was a easy day. Only a up hill of 20 km to ride from  the sea level to 800 m high but with a flat slope.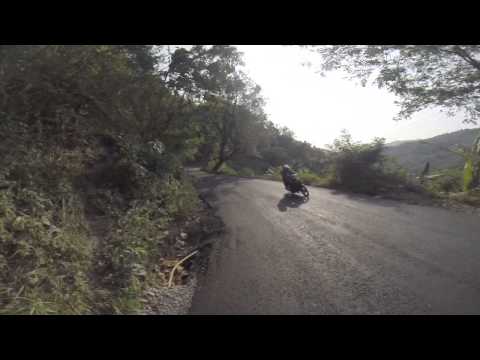 J'ai pu admirer une belle cascade.
I was able to admire a beautiful waterfall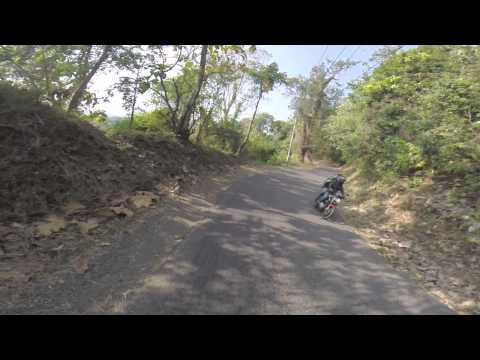 Des champs de thé où des paysans sont en pleine cueillette.
Fields of tea where farmers are in full picking.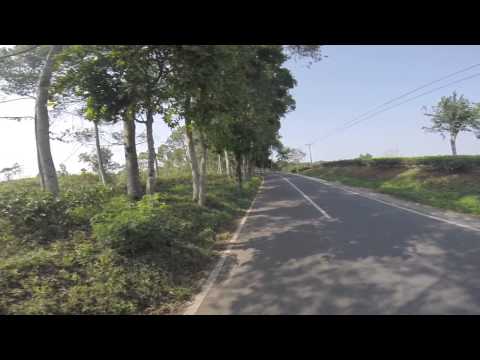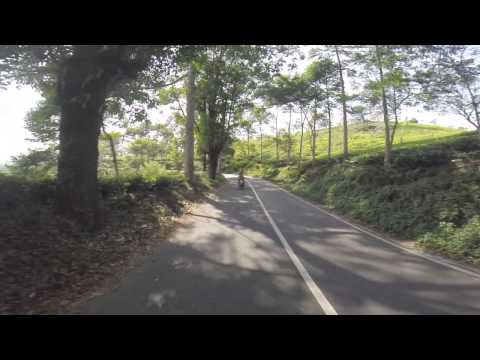 Arrivée dans un hôtel bien situé au bord de l'Océan Indien.
Arrival at a hotel well located close to Indian Ocean.
Seule petite déception, je n'ai pas pu assister à la ponte des tortues de mer, qui se déroule entre 22h00 et minuit, voire pas du tout.
Only a small disappointment, I was not able to attend the laying eggs of sea turtles, which takes place between 10:00 pm and midnight, even not at all.
Nous étions 6 à nous déplacer sur la plage des tortues qui se trouvait à 3 kilomètres de l'hôtel. Comme il fallait se lever à 05h00 du matin, nous ne pouvions pas prendre de risque sachant que la journée de demain serait chargée. Il aurait fallu dormir sur place.
We were 5 to move on the beach of the turtles that was  3 kilometers from the hotel. As it was necessary to get up at 05:00 am, we could not set of risk knowing the day of tomorrow would be difficult. It would have been necessary to sleep on the spot.
09-09-2014
19ème étape : Malimping (Bagedur Beach)-Cimaja
Informations techniques et sportives:
http://connect.garmin.com/modern/activity/586385474
Durée: 05h19′
Distance parcourue: 88 km
Dénivelé +:  1583 m
Vitesse moyenne : 17 km/h
Je n'avais pas internet pendant 2 jours. Je mettrai les vidéos un peu plus tard car il va falloir la nuit pour les télécharger.
No internet connexion for 2 days. I will put the videos later because I need all the night to download them.
Sur ce parcours, la distance n'était  pas importante mais le dénivelé était conséquent. Le dénivelé ne veut pas dire grand chose sans savoir de quelle façon, il est composé.
On this route, the distance was not important but the difference height was consequent. The the difference height does not mean much without knowing how it consists.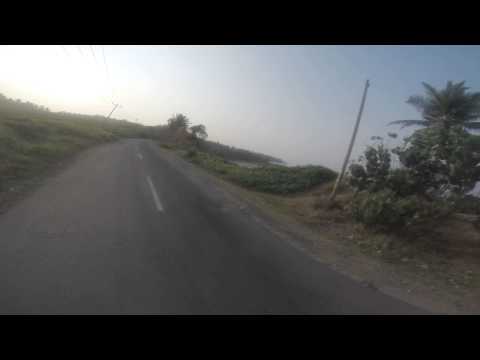 Aujourd'hui, par exemple, les pentes étaient très raides plus de 20%. Tellement pentue que je me couchais sur le vélo pour éviter de tomber en arrière et garder la dirigeabilité de la roue avant. Je n'ai jamais autant utilisé le petit plateau et le grand pignon qui étaient limite insuffisants à certains moments.
Today, for example, slopes were very stiff more than 20 %. So sloping that I laid down on the bike to avoid falling behind and keeping the steerability of the front wheel. I never have used so much the small plate and the big gear which were  insufficient at times.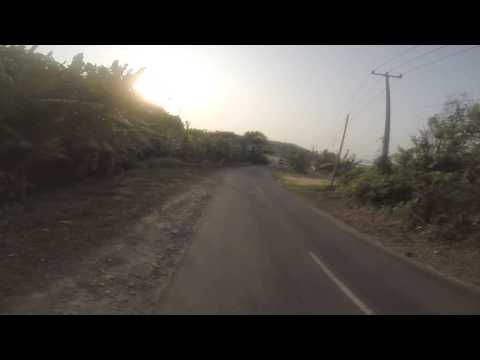 Ma vitesse était seulement de 5 km/h sur les montées difficiles. Très peu d'entre nous ont réussi à les monter entièrement. Certains ont avoué les faire à pied. Il n'y pas de honte car c'était vraiment difficile.
My speed was only 5 kph on the difficult up hills. Some of them was able to ride them completely. Some admitted to make them on foot. it is not a shame because it was really difficult.
Monter en danseuse me démangeait mais encore impossible à cause de mes côtes fracturées.
Stand up on the bike itched me but still impossible because of my broken ribs.
Aujourd'hui, ce fut l'hécatombe! Un participant s'est fracturé une côte et a une contusion au coude. Un autre s'est cassé la clavicule. Ironie du sort, il venait d'arriver. Il n'a pas fait 2 jours. Il est parti à Jakarta pour se faire hospitaliser. Il roulait en vélo de course avec pneus de route. C'était un peu risqué pour ce type de parcours.
Today, it was incredible day! A participant broke himself a rib and has a bruise in the elbow. An other one broke itself the collarbone. Unfortunately, he had just arrived. He did not ride 2 days. He left to Jakarta to be hospitalized. He was riding with a racing cycle with tires for good road. It was a little bit risky for this kind of rough road.
Heureusement pour moi, la veille, j'ai changé mes pneus route pour des pneus tout terrain.
Fortunately for me, the day before, I changed my tyres road for tires all ground.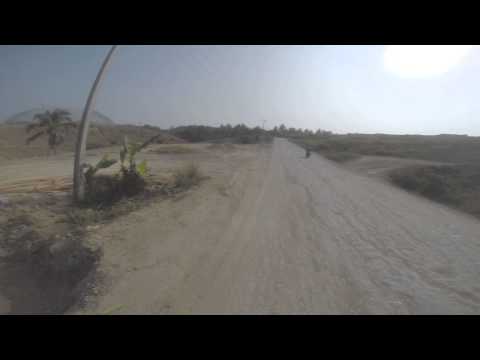 Ca m'a pris une vingtaine de minutes, mais au moins je suis parti l'esprit tranquille car la majorité  de la route était de la piste. Le parcours était assez dangereux car les côtes étaient fortes mais les descentes étaient violentes surtout avec des nids de poule qui parsemaient la route.
It took me about twenty minutes, but at least I rodenwith a quiet mind because the most of the route was rough roads.The route was rather dangerous because the up hills were strong but the down hills were violent especially with potholes which strewed the road.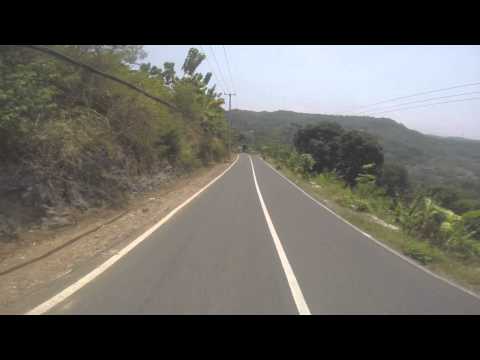 L'ombre des arbres est traître car souvent elle cache des nids de poule qu'on aperçoit au dernier moment.
The shadow of trees is treacherous because often it hides potholes that we saw at the last moment.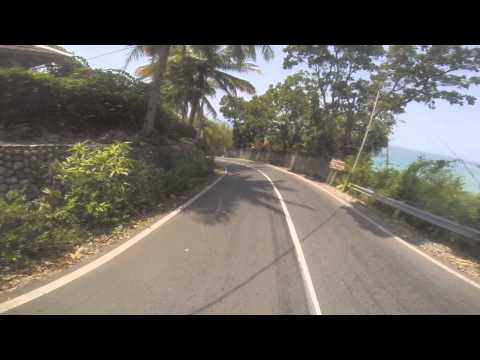 Il a fait 41°c au plus chaud de la journée !
The hotest temperature of the day was 41°c !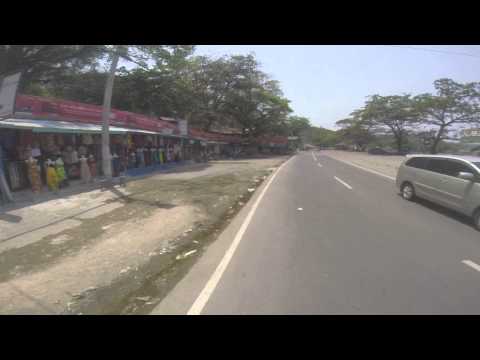 Hôtel sympa où nous avons passé la nuit.
08-09-2014
18ème étape : Carita-Malimping (Bagedur Beach)
Informations techniques et sportives:
http://connect.garmin.com/modern/activity/586259224
Durée: 05h36′
Distance parcourue: 118 km
Dénivelé +:  969 m
Vitesse moyenne : 20 km/h
Lever comme d'habitude à 05h00 du matin et petit déjeuner à 05h45. J'ai repris la route vers 06h30.
Awake as usual at 05:00 am and have breakfast at 05:45 am. I rode back the road at about 06:30 am.
La première partie était assez plate, ensuite en plein milieu du parcours une butte pas très haute mais longue qui faisait montagne russe (montées et descentes interminables) avec certains raidillons de quelques hectomètres à 16%. Rien de particulier à admirer.
The first part was rather flat, then in the middle of the route a not very high but long mound which made roller coaster (ascents and endless descents with certain steep paths of some hectometers at 16 %. Nothing particular to see on the road.
Il faisait très chaud comme d'habitude. J'ai bu plus de 5 litres d'eau sur les 112 km.
It was very hot as usual. I drank more than 5 liters of water on 112 km.
J'ai roulé tranquillement. Heureusement car j'ai failli me prendre un car qui prenait toute la route dans un virage. Cette fois-ci pas de blocage de la roue avant seulement la roue arrière plus facile à contrôler.
I rode quietly. Fortunately because I almost took myself a coach which took all the road in a bend. This time no blocking the front wheel only the back wheel easier to control.
Ca faisait longtemps, je n'avais eu une crevaison. Le pneu s'est dégonflé progressivement sans que je m'en aperçoive. Comme un effet tubeless, car les pneus Marathon anti-crevaison du manufacturier Schwalbe sont très rigides. Je m'en suis aperçu sur des bosses car la jante arrière venait claquer sur le bitume. J'ai terminé les 80 km restants avec une pression de 2 bars au lieu de 5 bars car la pompe à vélo à pied n'était pas disponible à la pause déjeuner. J'ai consommé un peu d'énergie surtout dans les montées comme si ce n'était pas assez difficile comme ça.
It was long time that I did not have a puncture. The tyre deflated gradually without I notice it. As an effect tubeless, because tyres Marathon anti-flat of the manufacturer Schwalbe are very stiff. I noticed it on bumps because the back wheel rim came to click on the asphalt. I ended remaining 80 km with a pressure of 2 bars instead of 5 bars because the bioke pump   was not available on the lunch break. I consumed a little of energy especially in the up hills as if it was not rather difficult like that.
Comme je l'avais indiqué, je ne suis qu'à 75% de ma capacité physique.
As I had told you, I am only 75 % of my physical capacity.
Sur le plat, ça va à peu près sauf sur des bosses ou des trous importants. Aujourd'hui, la route était en très mauvais état, voire dangereuse, à plusieurs endroits.
On the flat road, that goes more or less except on bumps or important holes. Today, the road was in very poor condition, even dangerous, in several places.
Ce qui me gêne le plus en ce moment est de ne pas pouvoir monter les côtes en danseuse. Je pense que dans 2 semaines, je devrais pouvoir le faire.
At the moment I am not to be able to climb hills in position stand up. I think that in 2 weeks, I should be able to make it.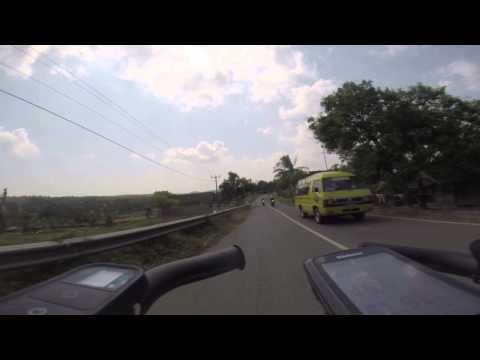 En Amérique Centrale, les gens nous interpelait de cette façon : « Hola Gringo ! » et en Indonésie : « Hello Mister! ».
In Central America, people we metbcalled us: » hello Gringo! » and in Indonesia: » Hello Mister! « .
Dans la soirée, je me suis baladé sur la plage. J'ai trempé les pieds dans l'Océan Indien dont  l'eau était tiède. J'ai rencontré un enseignant, qui enseigne l'anglais, très sympathique qui souhaitait me faire visiter son école. Je lui ai affirmé que je le ferai volontiers dans le cas où son école serait sur ma route. Il m'attendra  au bord de la route demain matin vers 07h30.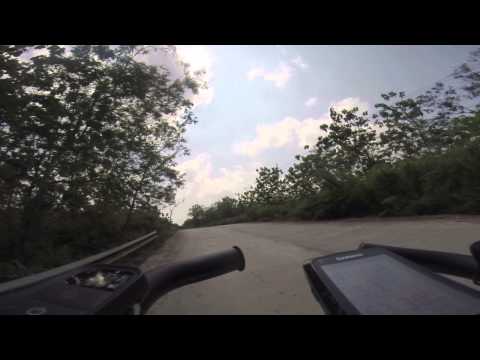 In the evening, I had a walk on the beach. I dipped feet into Indian Ocean the water of which was warm. I met a very nice teacher who wished to show me his school. I confirmed him that I will make it gladly in case his school would be on my road. He will wait for me by the roadside tomorrow morning at about 07:30 am.
J'ai regardé vers le sud-sud-ouest et je songeais à l'Afrique du Sud, pays que j'ai quitté depuis 10 ans déjà en septembre 2004. Je la considère comme ma 2ème patrie.
I looked towards the South-southwest and I was thinking about South Africa, country which I already left for 10 years in September, 2004. I consider it as my 2nd homeland.
Il faut que je prenne en photo mon ombre car vers 11h30, mon ombre est à la verticale, une preuve que je suis sur l'équateur.
I have to photograph my shadow because at about 11:30 am, my shadow is upright, a proof whom I am on the equator.
L'hôtel où nous dormirons aurait pu être sympa si l'entretien était fait. Aucune connexion internet.
The hotel where we will sleep would have been able to be nice if the maintenance was made. No internet connection.
Bungalow de l'hôtel