English below
Soutenez l'Association Petits Princes en achetant 5 Euros, 20 kilomètres en VTT.
Support the Association Petits Princes by buying 5 Euros, 20 kilometers in Mountain Bike.
Click on the following link:
Cliquez ici pour soutenir l'Association Petits Princes
 Fin de la 3ème section: Yogyakarta-Ubud.
End of the 3rd section:Yogyakarta-Ubud.
En synthèse et cumul depuis Medan (Sumatra):
Durée: 152h11′
Distance parcourue: 2 921,5 km
Dénivelé +:  43 994 m
Vitesse moyenne : 19,2 km/h
Venez me rejoindre sur la:
4ème section: Spicy Island Hopping (Ubud-Dili) 01 au 20 Octobre 2014
30-09-2014
Jour de récupération à Ubud
Repos dans un hôtel original
Agence Decreton
Philippe DECRETON
09, Avenue du général Leclerc
91 610 Ballancourt
http://www.renault.fr/concession/garage_decreton_philippe
29-09-2014
36ème étape : Lovina-Ubud
Informations techniques et sportives:
http://connect.garmin.com/modern/activity/604710205
Durée: 05h14′
Distance parcourue: 98,5 km
Dénivelé +: 1809 m
Vitesse moyenne : 18,8 km/h
Désormais, nous sommes à Bali.
Nous avons monté 1800 m de dénivelé en 35 km.
From now on, we are in Bali.
We climbed 1800 m of height in 35 km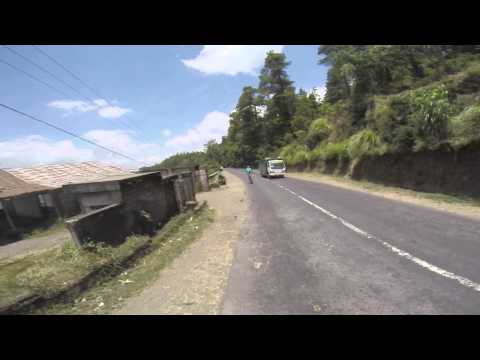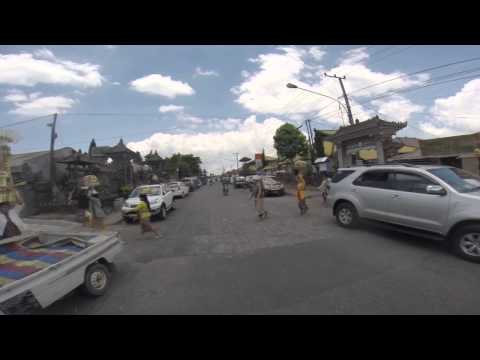 Superbe vue sur le volcan Batur
Beautiful sight on the Batur volcano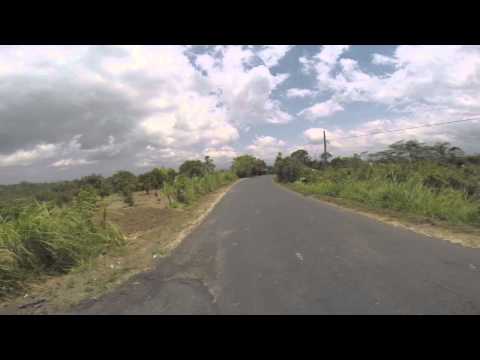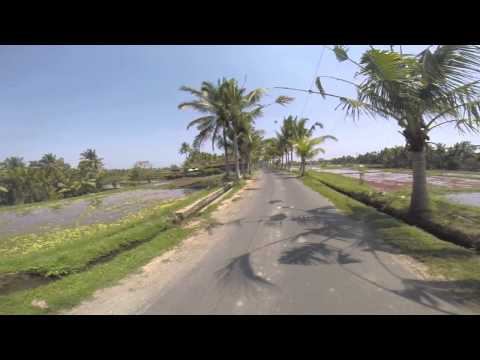 28-09-2014
35ème étape : Ketapang (Java)-Lovina (Bali)
Informations techniques et sportives:
http://connect.garmin.com/activity/601427989
Durée: 03h07′
Distance parcourue: 86 km
Dénivelé +: 357 m
Vitesse moyenne : 27,5 km/h
Présentation de l'encadrement de gauche à droite:
Cristiano (responsable du tour ), Andreas (responsable de la Trans-Oceania et mécanicien vélo) et Chelsea (infirmière)
Presentation of the management from left to right:
Cristiano ( tour leader), Andreas (tour leader of Trans-Oceania and mechanic bike) and Chelsea ( nurse)
Départ de l'hôtel
Au revoir Java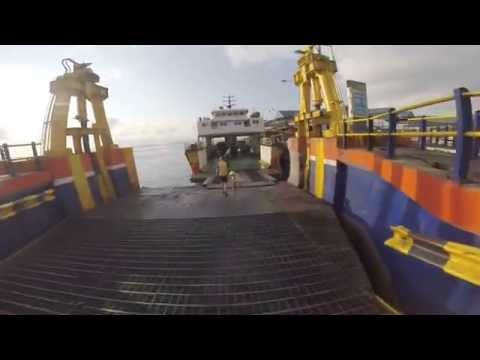 Vélos garés dans le ferry
Bikes parked in the ferry
Java ou la valse des volcans
Java or the waltz of volcanoes
Au revoir Java, qui nous a fait souffrir par tes montées abruptes mais qui nous a fait découvert tes somptueux paysages.
Goodbye Java, which made us suffer by your steep climbs but which made us discover your beautiful landscapes.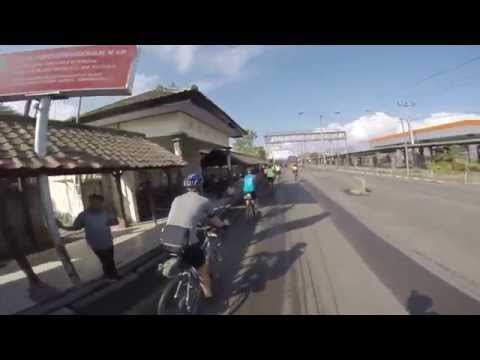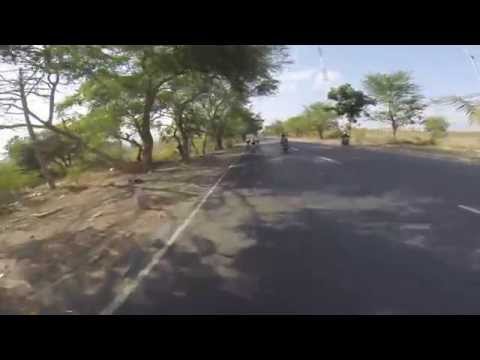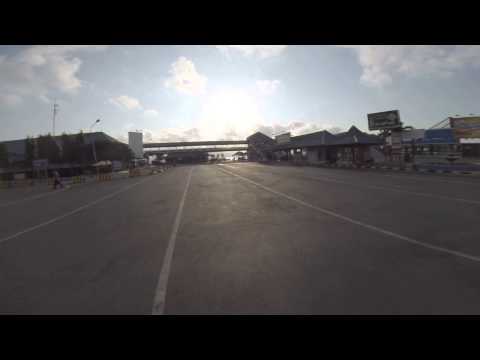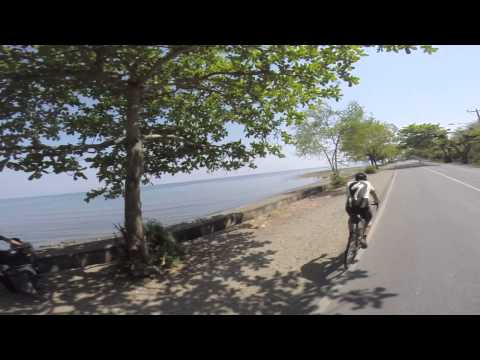 Je souhaite dédier la fin du voyage sur Java à l'Association Petits Princes.
Vous pouvez faire un don en cliquant sur le lien suivant:
I wish to dedicate the end of the journey on Java to the Association Petits Princes.
You can donate by clicking the following link:
http://www.alvarum.com/ericbeurton7epic
Agence Belleville Automobiles
Charles et Nathalie DUC
48, Chemin de la Plaine
91 190 Gif Sur Yvette
http://www.renault.fr/concession/garage_duc_charles
27-09-2014
34ème étape : Bondowoso-Ketapang
Informations techniques et sportives:
http://connect.garmin.com/activity/600715353
Durée: 06h25′
Distance parcourue: 107 km
Dénivelé +:  2594 m
Vitesse moyenne : 16,7 km/h
Pas de commentaires sur la difficulté du parcours. Le graphique en dit long.
2 climats et 2 végétations différents sur le même volcan: le premier versant est sec et le deuxième est humide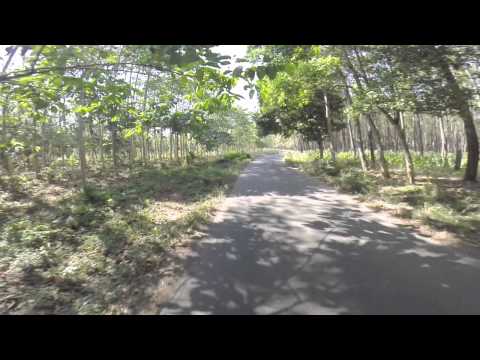 Versant du volcan avec paysage aride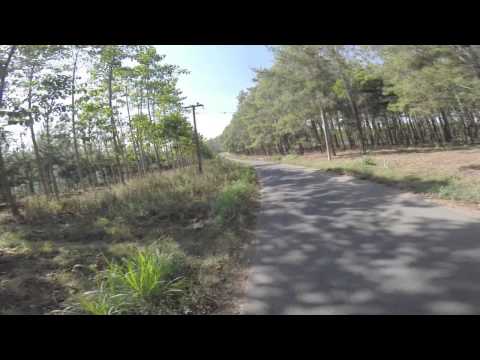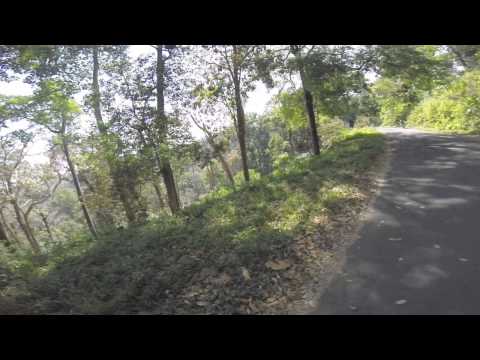 L'ombre est verticale! Equateur oblige!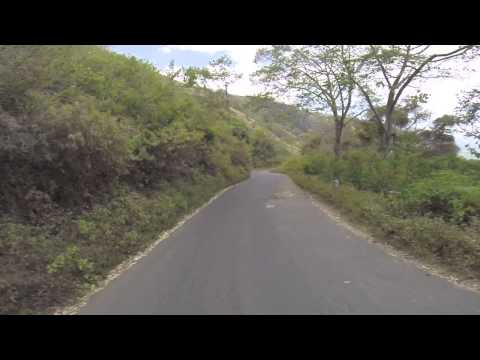 Eau de source soufrée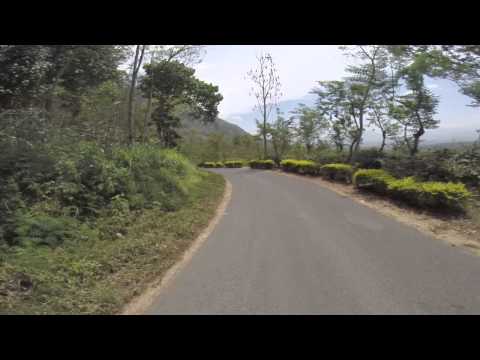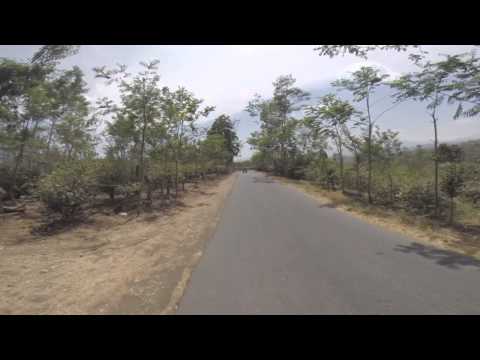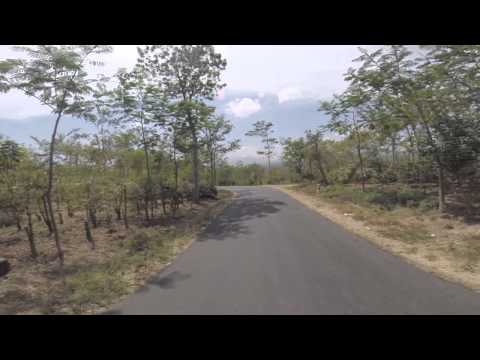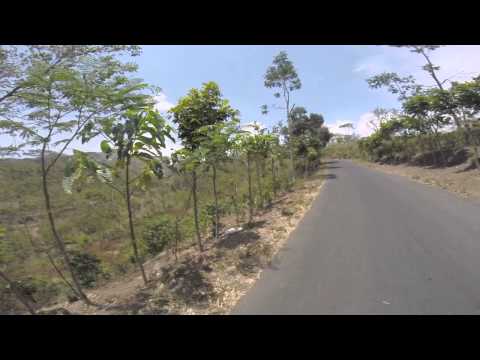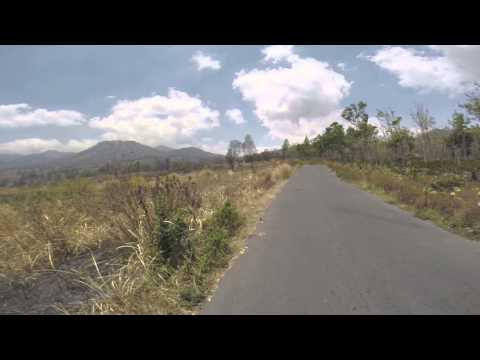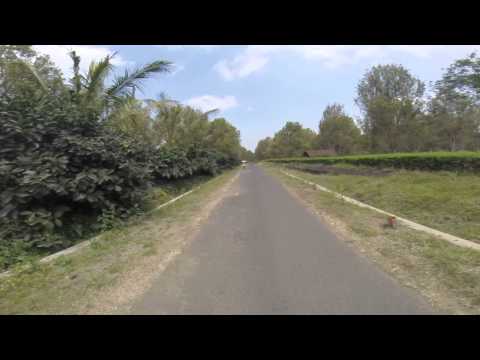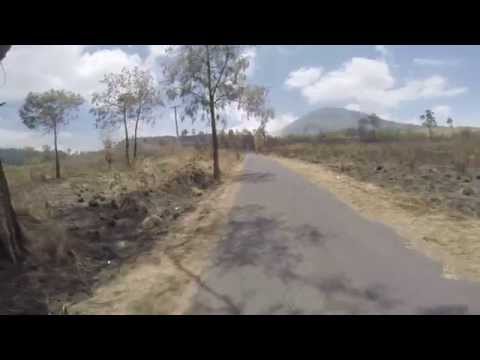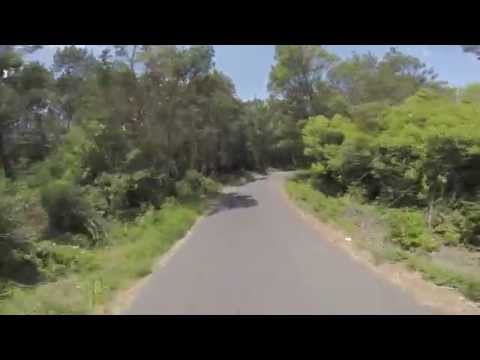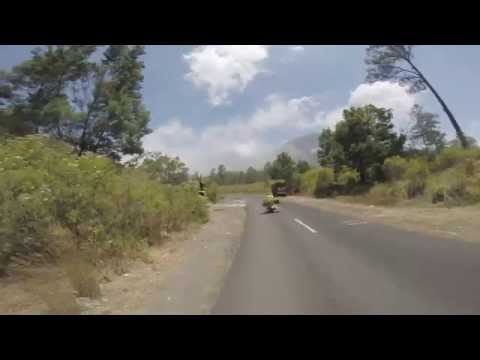 Versant du volcan avec végétation luxuriante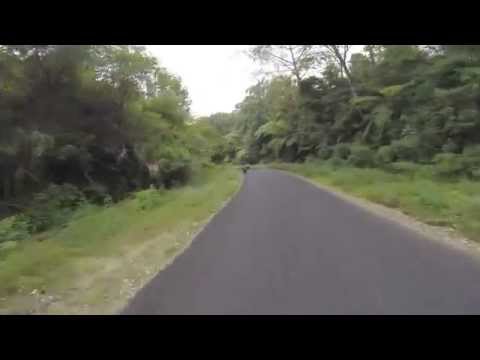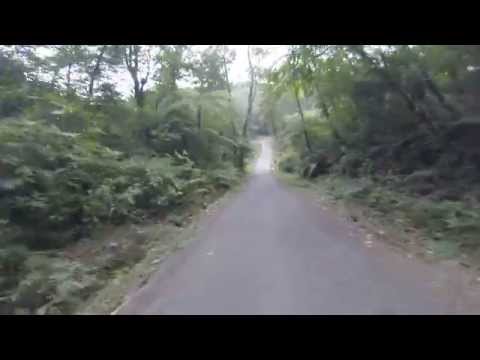 Champs de café
Grains de café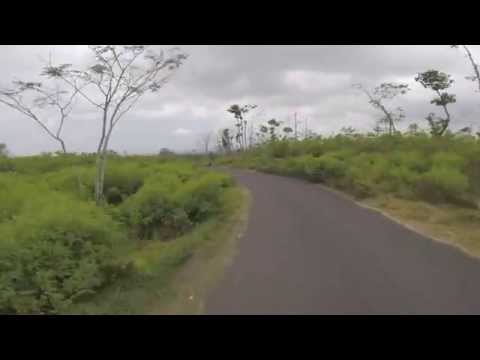 Agence 43
Jean-Luc BONGAERTS
Route Nationale 7
77  310 Boissise Le Roi
26-09-2014
33ème étape : Bromo-Bondowoso
Informations techniques et sportives:
http://connect.garmin.com/modern/activity/599600563
Durée: 06h26′
Distance parcourue: 161 km
Dénivelé +:  1370 m
Vitesse moyenne : 25 km/h
Départ matinal et frais avec une dernière vue sur le volcan Bromo.
Morning departure and cool with a last sight on the Bromo volcano.
Un peu de musculation pour s'échauffer. En fait, c'est le symbole de l'organisation Tour d'Afrique Ltd.
Body-building to warm up. In fact, it is the symbol of the organization Tour d'Afrique Ltd.
Le brief de la journée.
The brief of the day.
Au revoir Bromo!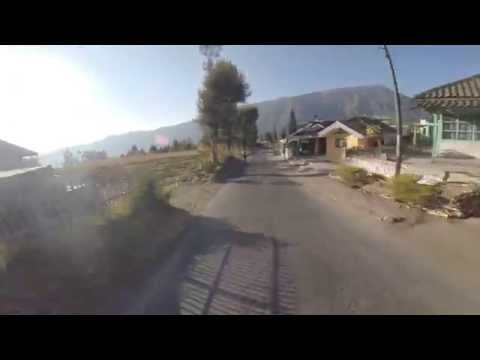 2 petits macaques
2 small monkeys.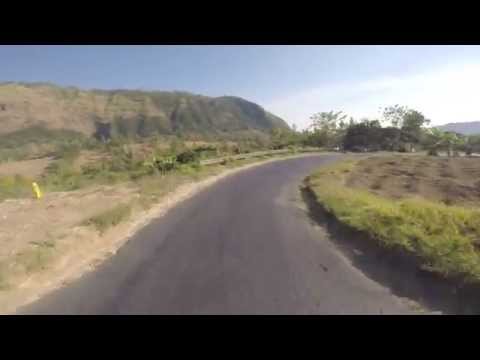 Drafting derrière un camion
Drafting behind a truck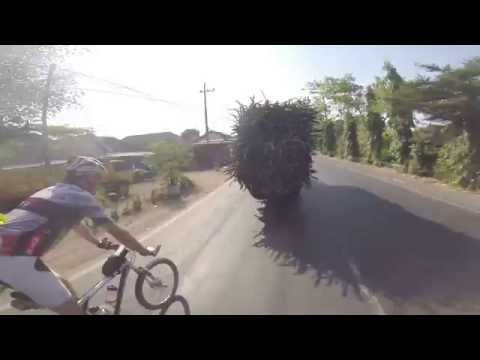 Traversée d'une passerelle en bois
Going thru a wooden bridge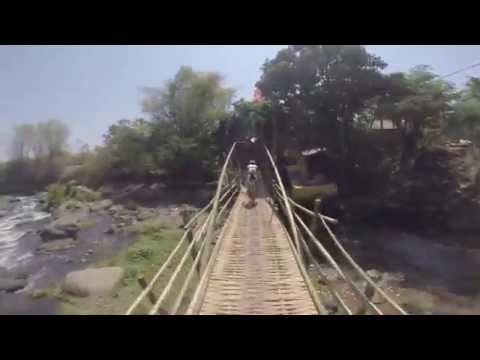 Sèchage du tabac
Drying tobacco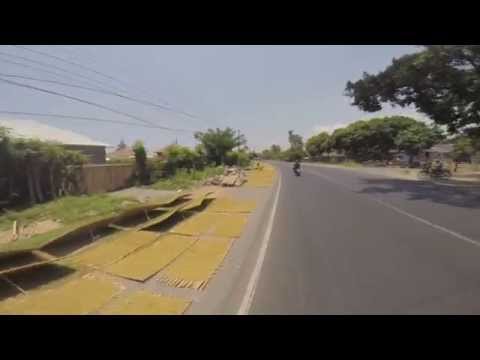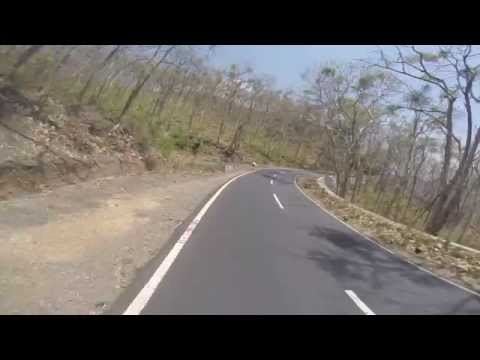 REDELE MELUN
Concession de Melun
23, Route de Montereau
77 000 Melun
http://www.renault.fr/concession/melun
REDELE BRIE
17, rue du Général Leclerc
77 170 Brie Comte Robert
http://www.renault.fr/concession/brie_comte_robert
25-09-2014
Jour de récupération à Bromo
Jour de repos sur le site de Bromo park.
Rest day at Bromo park.
Le volcan Bromo est encore en activité.
Bromo volcano is still activ.
Hier en traversant ce désert de sable, paradoxal avec le climat équatorial de Java, je sentais le soufre qui se dégageait de ce volcan.
Yesterday by crossing this desert of sand, it is paradoxical with the equatorial climate of Java, I breath the sulfur gas which goes from this volcano.
La partie de Java que nous traversons est une région aride. Nous n'avons pas eu une goutte de pluie depuis Carita.
The part of Java that we cross is a dry region. We had no rain since Carita.
Ce matin, nous sommes partis à 5 dans un tout-terrain qui  nous  a déposés au pied du volcan. Nous avons vu un temple sorti de nulle part.
This morning, we left (we were 5) in four-wheel vehicle which dropped us at the foot of the volcano Bromo. We saw a temple built from nowhere.
Après avoir monté les 250 marches, sous des vents qui nous fouettaient le visage avec ce sable abrasif, nous sommes arrivés au sommet à 2400 m d'altitude.
After climbing the 250 steps, under winds which whipped us the face with the abrasive sand, we arrived on the summit at 2400 m of altitude.
Du haut du cratère, nous avons pu contempler l'antre du volcan qui rejetait des vapeurs soufrées.
From the top of the crater, we were able to contemplate the cave of the volcano which rejected sulphurated vapors.
Mais aucune lave en vue, comme sur l'île de la Réunion.
But any lava in sight as on the Reunion Island.
 Avec l'altitude, les soirées étaient fraîches et  poussiéreuse.
 With the altitude, the evenings were cool and dusty.
Dernière irruption en 2011.
Last irruption in 2011.
L'hôtel où nous avons séjourné était spartiate mais avec vue sur le volcan Bromo.
The hotel where we stay was very simple bur with a view on the volcano Bromo.
Garage de 3
Agence Renault
Saïd CADHI
120, Rue De Troyes
77 390 Guignes
http://www.renault.fr/concession/garage_de_3
24-09-2014
32ème étape : Batu-Bromo
Informations techniques et sportives:
Durée: 06h26′
Distance parcourue: 77 km
Dénivelé +:  2205m
Vitesse moyenne : 12 km/h
La journée s'annonçait difficile malgré le faible kilométrage (77 km). La règle en générale est simple, une faible distance indique que la difficulté est importante.
The day seemed difficult in spite of the low mileage (77 km). The rule generally is simple, a low distance indicates that the difficulty is important.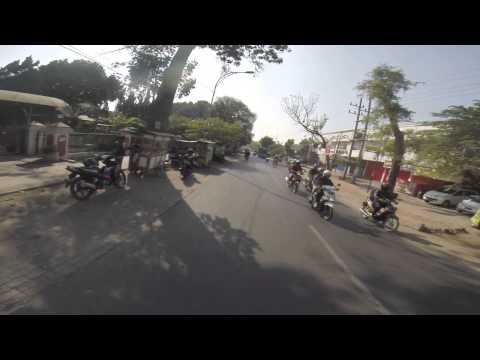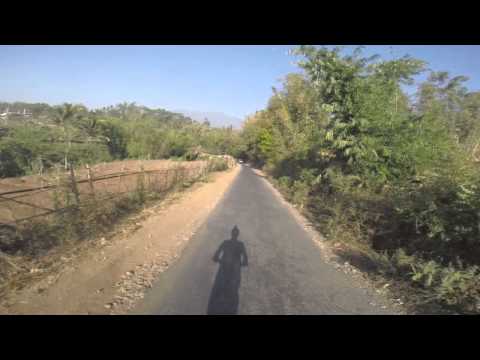 Je ne sais pas si j'ai la poisse, mais à peine remis de mes côtes fracturées, je me fais percuter à l'arrière par une moto qui roulait très vite. Je roulais tranquillement avec Gérald le français.
I do not know if I have bad luck, but hardly my broken ribs are cared, I am collided in the back by a motorcycle that drove very fast. I was riding quietly with Gérald the french rider.
En tombant, ma tête a percuté le sol, heureusement que j'avais un casque. Le système de verrouillage de la caméra GoPro s'est ouvert et la carte SD a sauté de son logement.
By falling, my head collided the ground, fortunately that I had a helmet. The system that locks the camera GoPro opened and the SD card jumped of its housing.
J'ai un beau bleu à la fesse droite, et des blessures au coude droit et au genou droit.
I have a beautiful bruise in the right buttock, and wounds on the elbow and in the knee right hand side.
Heureusement que je suis tombé sur le côté droit. En fait je n'ai quasiment rien et le vélo non plus.
Fortunately I fell on the right-hand side. In fact I have almost nothing and the bike either.
Le motard a fait un délit de fuite car il ne s'est pas arrêté.
The motorcyclist made a hit-and-run offence because he did not stop.
Le propriétaire d'un atelier de motos, qui a vu la scène,  m'a apporté un flacon de Bétadyne. C'était très sympa de sa part.
The owner of a motorbike workshop, who saw the accident, brought me a flask of Bétadyne. It was very kind of him.
Les indonésiens sont d'une gentillesse impressionante, sont toujours souriants et prêts à vous aider sans contrepartie.
Indonesian people are of a incredible kindness, are all time smiling and ready to help you without counterparty.
J'ai repris la route dans la foulée avec l'hématome à la fesse qui me gênait un peu.
I rode back on the road right now with the bruise in the buttock which bothered me a little bit.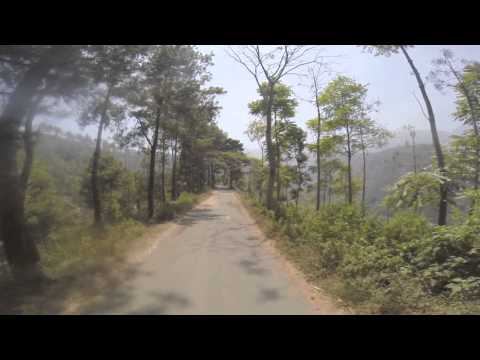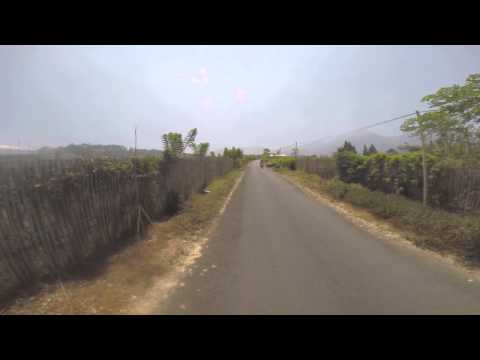 Le décor du parcours était splendide . La première montée était assez simple et ensuite les côtes « scélérates» sont apparues : plus de 20% avec des tronçons d'1 km.
The landscape of the route was magnificent. The first climb was rather simple and then the climbs » villainous » appeared: more than 20 % with sections of 1 km.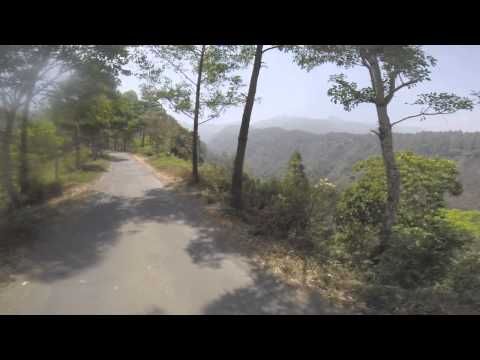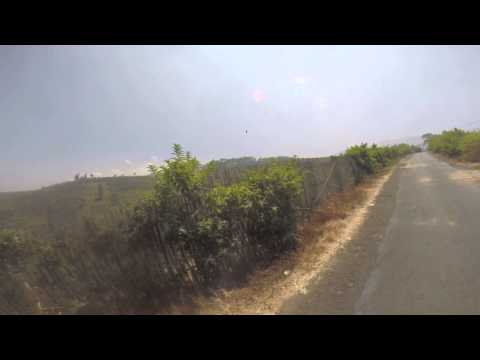 Pendant 12 km, ce fût très difficile sachant que je suis monté à plus de 2300 m d'altitude.
For 12 km, it is very difficult knowing that I climbed more than 2300 m of height.
Quand je suis arrivé au sommet, une vue remarquable sur le massif de Tengger se découvrait.
When I arrived at the summit, a remarkable view on the Tenger park appeared.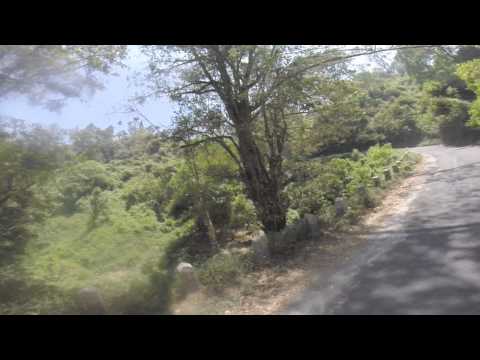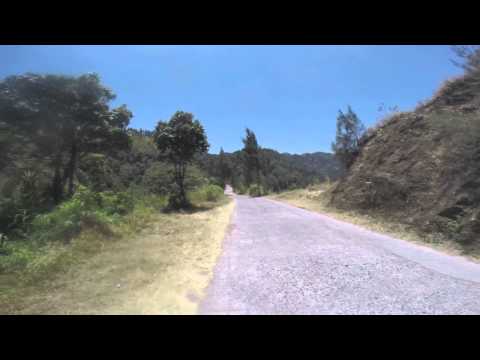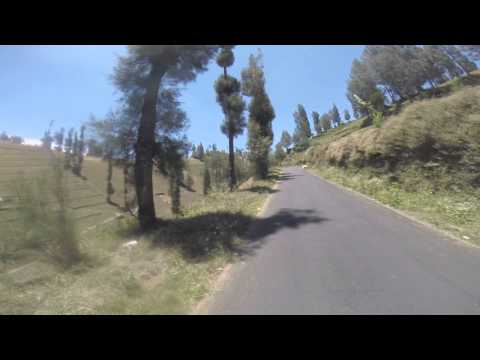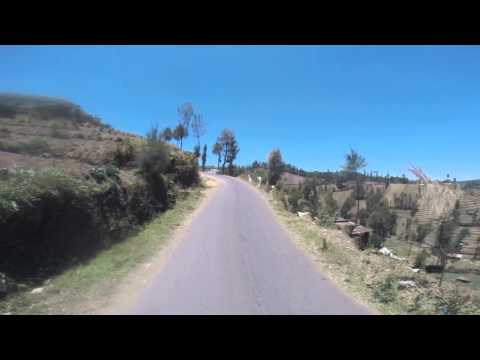 Puis une descente un peu casse-cou où je regrettais de ne pas avoir de VTT, mais avec mon VTC, je suis très bien passé à part que j'ai cassé un rayon de la roue arrière. C'est le deuxième depuis le début du raid.
Then a descent a little bit dangerous where I regretted having no moutain bike, but with my hybrid bike, I very well rode except I broke a spoke of the rear wheel. It is the second since the beginning of the trek.
Cette descente m'a emmené dans le cirque du volcan (massif du Tengger).
This descent took me in the crater of the volcano (Tengger park).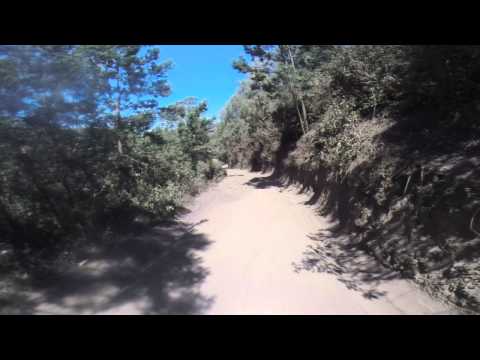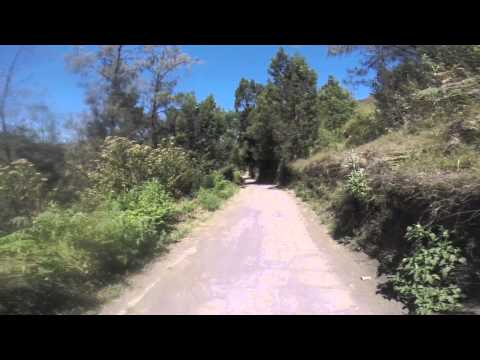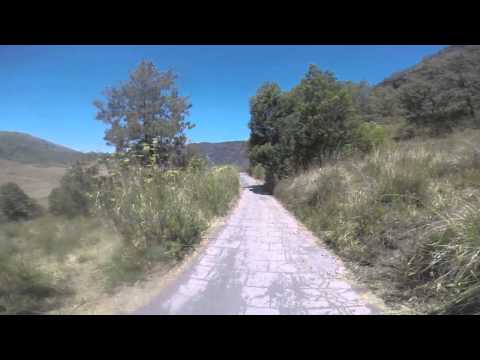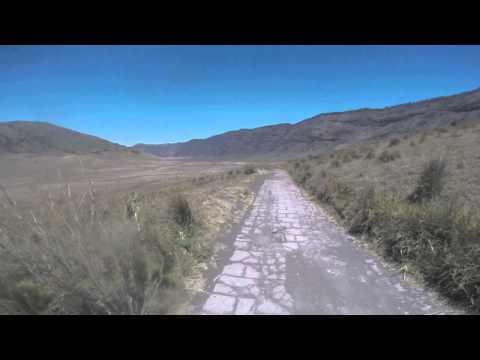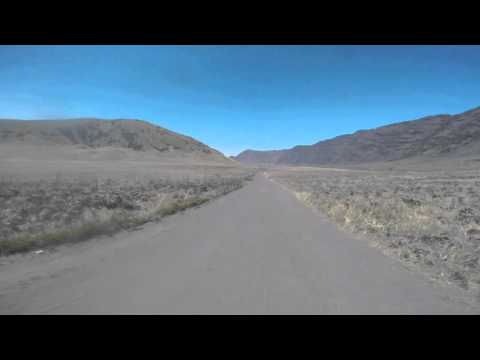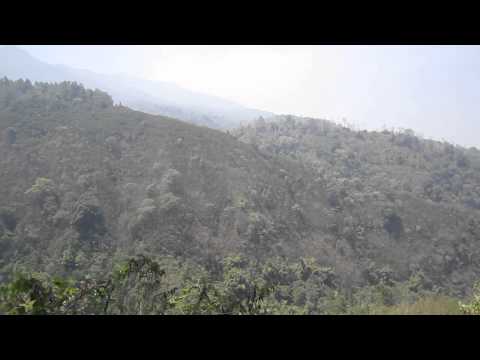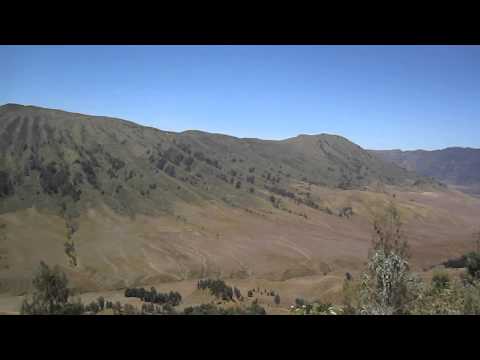 Ensuite, partie difficile car le cirque est composé d'un désert de sable fin noir créé par les cendres des irruptions
Then, difficult part because the crater is made of a desert of black fine sand created by the irruptions ashes.
Impossible de rouler à certains endroits même avec  le petit plateau et le grand pignon, je m'enfonçais comme dans de la farine.
Impossible to ride in certain places even with the small plate and the big gear, I sank as into flour.
Mes pneus n'étaient pas assez larges comme ceux des VTT mais même avec des pneus larges, j'aurai dû marcher. Par conséquent j'ai marché facilement plus de 2 kilomètres avant de retrouver le bitume.
My tyres were not enough wide as those mountain bike but even with wide tires, I will have had to walk. Consequently I walked more than 2 kilometers before finding the asphalt.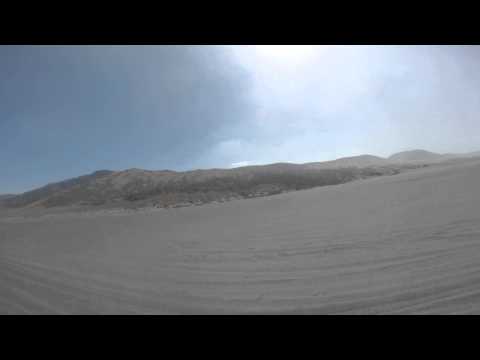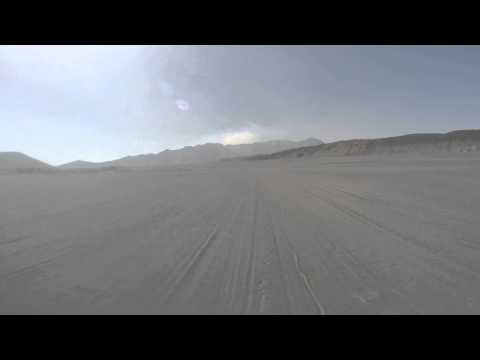 En revanche, ce paysage lunaire était incroyable. Je me sentais vraiment isolé dans ce désert. De temps en temps je croisais un véhicule tout-terrain.
On the other hand, this lunar landscape was incredible. I felt really alone in this desert. From time to time I crossed a four-wheel drive vehicle.
C'était paradoxal d'être dans un désert sec situé en pleine ile de Java, ile équatoriale.
It was paradoxical to be in a dry desert located in  Java, equatorial island.
Le dernier kilomètre bitumé m'a achevé car j'ai monté 250 m de côte en 1 km (25%) pour sortir du cirque.
The last asphalted kilometre finished me because I climbed 250 m in 1 km (25%) to go out of the crater.
Les vêtements des locaux et l'altitude me donnaient l'mpression d'être au Népal.
The clothes of the local people and the altitude gave me the impression to be in Nepal.
GRAND GARAGE FERAY
Concession Renault de Corbeil
46, Avenue du 8 Mai 1945
91 100 Corbeil Essonnes
SOVEA
Concession Renault de Chennevières
96, Route De La libération
94 430 Chennevières Sur Marne
GIRARDIN
Concession Renault de Champigny
118, Avenue Roger Salengro
94 500 Champigny Sur Marne
24-09-2014
31ème étape : Tulungagung-Batu
Informations techniques et sportives:
http://connect.garmin.com/modern/activity/597699566
Durée: 05h02′
Distance parcourue: 116 km
Dénivelé +:  1465 m
Vitesse moyenne : 23 km/h
Une journée type est composée de la manière suivante :
A day type:
Lever à 05h00
Wake up at 5 am
Dépôt des sacs à 05h45 pour chargement dans les minibus
Drop the bags at 05h45 am for loading in the minibuses
06h00 : petit déjeuner
06.00 am: breakfast
06h30 : départ des participants
06.30 am: departure of the participants
10h00-11h00: Pause déjeuner
10.00-11.00 am: lunch stop
13h00 et 16h00 : Arrivée à l'hôtel des participants
1.00 to 4.00 pm: Arrival of the participants to the hotel
18h00 : Briefing du jour suivant suivi du dîner
6 pm: Briefing concerning the next day followed by the diner
20h00 : coucher pour les couche -tôt
8.00 pm: go to bed
Jusqu'à 23h00 pour les couche-tard dont je fais partie
Until 11.00 pm:  people go to bed late like me
23-09-2014
30ème étape : Sarangan-Tulungagung 
Informations techniques et sportives:
http://connect.garmin.com/modern/activity/597021712
Durée: 06h21′
Distance parcourue: 127 km
Dénivelé +:  1845 m
Vitesse moyenne : 20 km/h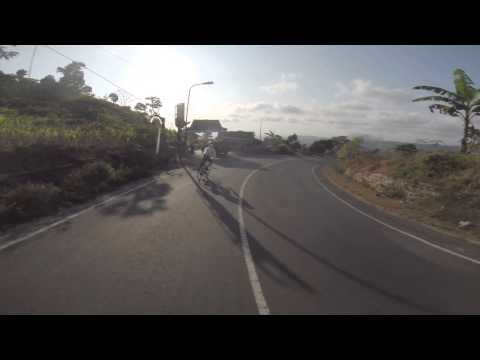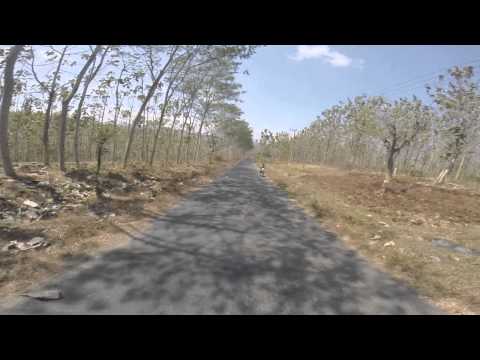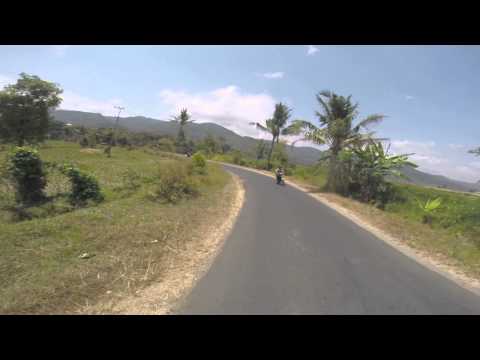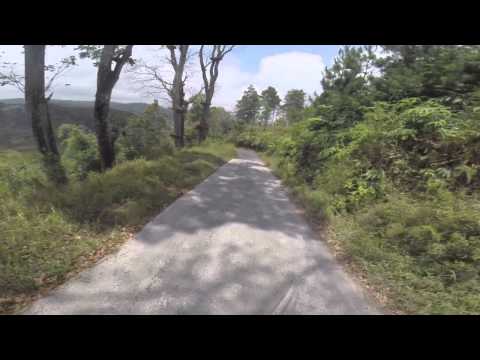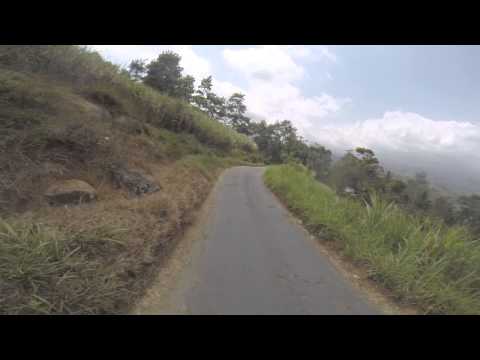 Une belle descente pour commencer avec le minibus de l'organisation qui a failli se renverser dans le ravin. Je roulais juste derrière eux et dans un virage, le chauffeur a perdu  le contrôle du véhicule qui s'est incliné dangereusement côté ravin.  La roue arrière gauche s'est levé.
A beautiful descent to begin with the minibus of the organization which almost overturned in the ravine. I just rode behind them and in a bend, the driver lost control of the vehicle which bowed dangerously side ravine. The left back wheel got up.
Comme d'habitude, des côtes interminables avec un gradient important.
As usual, endless climbs with an important gradient.
Les marins craignent les vagues scélérates et nous (cyclistes)  nous craignons les côtes scélérates, celles qui surgissent au détour d'un virage et dont l'nclinaison dépasse les 20%.
The sailors are afraid of the wave called « Villainous » and of us (cyclists) are afraid up hills « Villainous », those who appear in the bend  and the slope of which exceeds the 20 %.
22-09-2014
29ème étape : Solo-Sarangan
Informations techniques et sportives:
http://connect.garmin.com/modern/activity/596848610
Durée: 04h28′
Distance parcourue: 62,5 km
Dénivelé +:  2092 m
Vitesse moyenne : 14 km/h
Départ sur les chapeaux de roue car Gérald et moi-même sommes levés à 06h30 au lieu de 05h00. C'est l'heure où tout le monde part!
Departure at top speed because Gérald and myself awoke at 06:30 am instead of 05:00 am. It is the hour when everybody leaves!
J'avais oublié de réactiver l'alarme de mon téléphone depuis les 2 derniers jours de repos à Yogyakarta. Gérald avait mis l'alarme de son smartphone mais avait oublié de retirer les écouteurs car il écoutait la musique pour s'endormir la veille.
I forgot to reactivate the alarm of my telephone since the last 2 rest days at Yogyakarta. Gérald set the alarm of his smartphone but had forgotten to remove earphones because he listened to the music to fall asleep the day before.
La French team s'est bien faite remarquée!
De surcroît Joachim l'allemand est venu frappé à notre porte s'inquiétant de ne pas nous avoir vu au petit déjeuner.
Besides Joachim the German came and knocked the door because he was worried to have not seen us at breakfast.
Nous n'avons rien entendu. Nous étions dans un sommeil profond.
We heard nothing. We were in a sound sleep.
Les 2 seuls français du raid en retard pour le départ sachant qu'il fallait déposer nos sacs dans les mini-bus qui étaient en train de partir.
2 French of the trek, late for the departure and it was necessary to put down our bags in the minibuses which were leaving.
Nous avons pu prendre notre petit déjeuner et avons quitté l'hôtel vers 07h15 soir 45 minutes après le départ des autres participants. Cela ne nous a pas empêché de remonter quasiment tout le monde.
We were able to have breakfast and left the hotel at about 07:15 am, 45 minutes after the departure of the other participants. It was possible to catch other participants during the ride.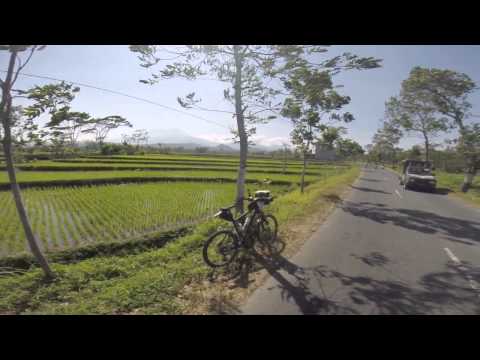 Je roulais avec Gérald qui me suivait de près. Tout à coup le véhicule devant nous a freiné brutalement. Je me suis arrêté à temps mais Gérald pour m'éviter a fait une belle cascade dans le fossé. Heureusement, aucune blessure à déplorer et aucun dommage concernant son vélo.
I was riding  with Gérald who followed me closely. Suddenly the vehicle in front of us braked brutally. I stopped in time but Gérald to avoid me made a beautiful stunt in the ditch. Fortunately, no wound to be regretted and any damage concerning its bike.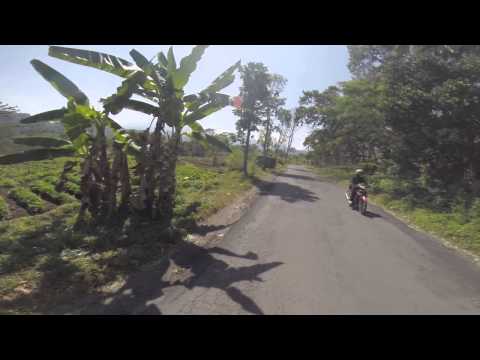 Jamais 2 sans 3, Gérald a bloqué sa chaîne de vélo entre la cassette (ensemble des pignons) et la jante arrière: cas très rare. Andreas, le responsable du tour et mécanicien vélo est venu réparer sur place le VTT de Gérald.
Never 2 without 3, Gérald blocked its bicycle chain enter the cassette (rear gears) and the back wheel rim: very rare case. Andres, the person in charge of the tour and the mechanic bike came to repair on the spot the Gérald's mountain bike.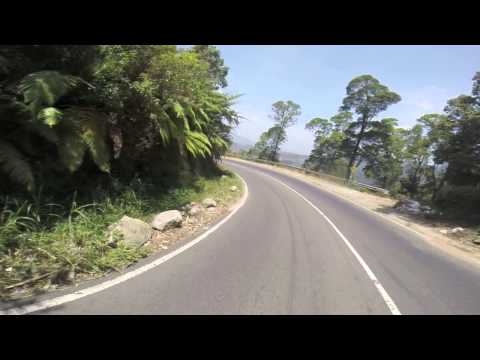 Les paysages étaient très beaux avec vue sur le volcan. La côte longue de 50 kilomètres qui nous a donné du fil à retordre sur certains tronçons difficiles à franchir par leurs  longueur et inclinaison.
The landscapes were very beautiful with a view of the volcano. The climb of 50 kilometers long which gave a headache to us on certain sections difficult to ride because of  their length and slope.
Nous sommes passés de 100 m à 1900m d'altitude.
We rode from 100 m to 1900m of altitude .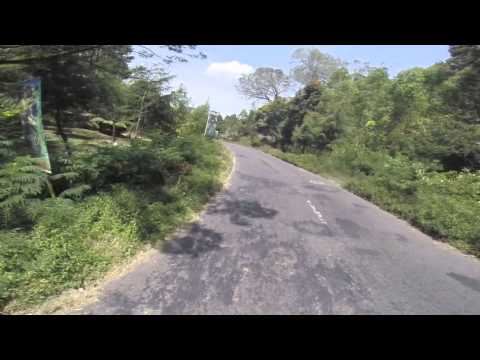 L'Indonésie est en majorité musulmane, une minorité de chrétiens y vivent (Exemple Tuktuk) et plus on se rapproche de l'est de Java et plus nous apercevons le mélange musulman,hindou et bouddhiste.
Indonesia is Muslim for the greater part, Christians' minority live there (Example Tuktuk) and the more we get closer from the east of Java and the more we perceive the Muslim, Indian and Buddhist mixture.
21-09-2014
28ème étape : Yogyakarta-Solo
Informations techniques et sportives:
http://connect.garmin.com/modern/activity/595257555
Durée: 05h23′
Distance parcourue: 112,5 km
Dénivelé +:  1319 m
Vitesse moyenne : 21 km/h
Bonne nouvelle! J'ai reçu mes maillots « Raid Austral 2014-2015″ envoyés par mes parents car les maillots sont arrivés avec du retard en France après mon départ.
Good news! I received my jerseys « Raid Austral 2014-2015″  » sent by my parents because the jerseys arrived with the delay in France after I left France.
J'ai même fait des adeptes!
I even made followers!
Photo prise devant l'hôtel avant notre départ dont la banderolle a été créée spécialement pour nous.
Photo taken in front of the hotel before our departure with the banderolle  which was specially designed for us.
Parcours pas trop difficile malgré la première montée qui a calmé nos ardeurs.
Not too difficult route in spite of the first climb which calmed our enthusiasm.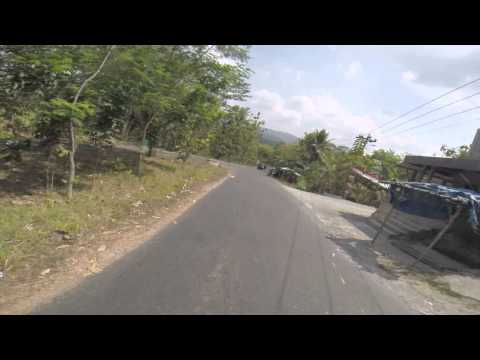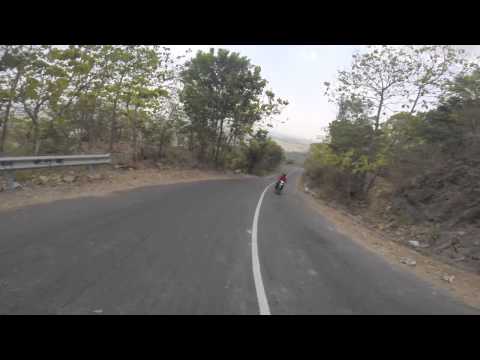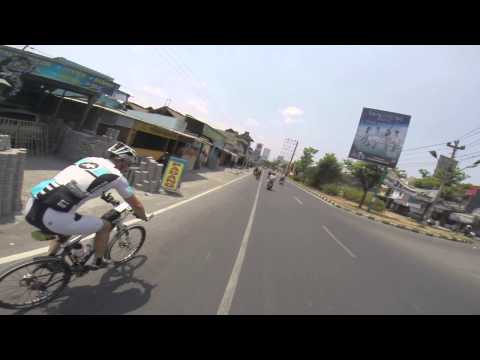 Agence DSF Automobiles
Filipe DA SILVA
39, Avenue Winston Churchil
94 370 Sucy En Brie